Samsung Galaxy S7 edge vs Samsung Galaxy S6 edge+
33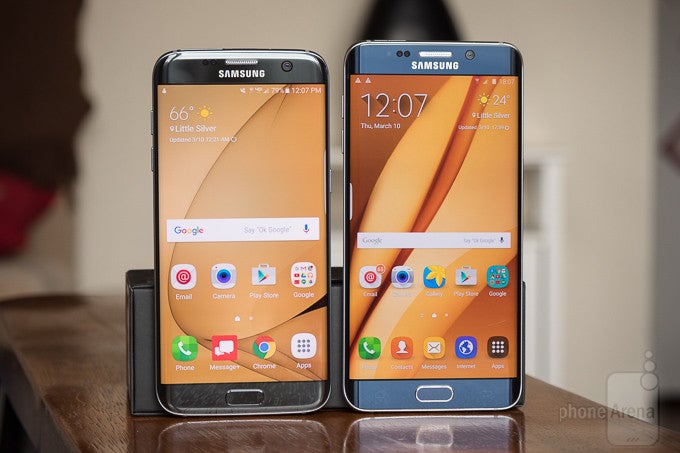 Introduction
With the
Galaxy S7
and
S7 edge
's release, Samsung is coming back with a bang, realizing what it started last year to its fullest potential. The
Galaxy S7 edge
has several things going over its predecessor, such as subtle design enhancements, significant hardware improvements, and user-centric niceties like water resistance and expandable storage. Although it lacks groundbreaking features, such as the
iPhone 6s
' 3D Touch interface or the
LG G5
's novel modularity, the Galaxy S7 edge is among the most attractive and technologically accomplished Android smartphones to date.
So, does the new Galaxy S7 edge offer any significant advantages over the
S6 edge+
, especially now that the latter is discounted and remains an up-to-date, very capable phone? Half a year after its release, the device still holds its own, and could potentially sway some buyers away from the Galaxy S7 edge as it brings much of its allure in a slightly bigger-screened package. This is a fast-moving phablet with mostly the same edgy looks and competitive features, available at a cheaper price. Seeing them side by side, some are bound to question whether they really want the latest and greatest by Samsung, or the S6 edge+ is the more sensible purchase.
With this in mind, let's compare the Galaxy S7 edge and the Galaxy S6 edge+ so you can get a better idea about what you're going to gain, and what you're going to miss on, depending on your choice.
Design
Both phablets look and feel absolutely premium, but the S7 edge is easier to handle and waterproof, while the Galaxy S6 edge+ offers a bigger screen.
Being an iterative upgrade, the Galaxy S7 edge doesn't look much different than its predecessor, but the incremental changes have refined the design. It is a futuristic and elegant device whose curved screen is immediately striking, but the same applies for the Galaxy S6 edge+. Both devices are a sight to behold with their smooth, glass-covered panels and sculpted metal frames. This doesn't mean they handle equally well, though.
Samsung actually took a cue from the Galaxy Note 5, transplanting its back's subtle curve onto the Galaxy S7 edge. Thus, its back isn't flat like on the S6 edge+, therefore the handset feels better in the palm. Alas, both devices are utter fingerprint magnets with their glassy bodies, needing a thorough wipe every now and then. When clean, though, both look and feel absolutely premium.
Of note is that the curved screen design has let Samsung make both smartphones narrower than if they had regular screen bezels. This makes the Galaxy S7 edge and Galaxy S6 edge+ reasonably sized, considering their big screens. However, the former is easier to operate with its slightly smaller footprint and comfortably curved back, while the latter is definitely geared towards two-handed use. Weight-wise, both devices feel substantial with their metal and glass build, yet lighter than what you'd expect.
They are sold in a somewhat conservative choice of colors, though – Black, White, Gold, and Silver. While all too predictable at this point, the color variants do look nice and classy, and the way light plays off both smartphones' metal and glass bodies is just fancy! However, the Galaxy S7 edge does have a design advantage over the Galaxy S6 edge+ in that the handset is IP68-certified, which means it's dust-tight and can be safely submerged into water 1 meter (3.28 feet) deep.
Being the technological powerhouses they are, both handsets have fingerprint sensors for biometric security, heart rate sensors, wireless charging and rapid charging.
Display
Samsung's latest AMOLED displays are the industry's best, but the Galaxy S7 edge offers no improvement over the Galaxy S6 edge+.
Samsung's latest AMOLED displays are one of the best the industry has to offer, and neither the Galaxy S7 edge, nor the S6 edge+ are exceptions to that. Both are very sharp with their Quad-HD resolution (1440 x 2560), and size-wise, the former is 5.5 inches, while the latter is 5.7 inches by diagonal. We're talking big screens here, folks!
Both displays are reasonably color-accurate, although red colors, in particular, are somewhat off the reference points and appear oversaturated. Unfortunately, the Galaxy S7 edge's display can't really be called an improvement over the Galaxy S6 edge+, but it still ranks among the best smartphone screens there are.
With a minimum of 2 nits and maximum of 493 nits brightness output, the Galaxy S7 edge isn't better than the Galaxy S6 edge+'s 1 nits minimum and 502 nits maximum levels. Still, these are sufficiently bright displays that can be used under intense light and won't strain your eyes in the dark. However, there are other smartphones that offer a peak brightness output of 600 to 800 nits and above, so Samsung isn't a leader here. Viewing angles are good, but shifting the perspective introduces visible color distortion – a shortcoming of Samsung's current AMOLED screens.
While it lacks technological improvements, the S7 edge's display does have something to differentiate it from the S6 edge+'s, and that's 'Always On' functionality. When it's in your hands, the S7 edge constantly keeps part of its screen on in order to show you glanceable info, such as the time, notifications, and appointments. The best part is that this is supposed to help with battery life, as Samsung and fellow 'Always-On' purveyor LG claim users turn on their screens up to 200 times a day just to check the time.
Display measurements and quality