Apple iPhone 3GS and HTC Nexus One: side by side
17

HTC Nexus One Release Date - January 05, 2010
Apple iPhone 3GS Release Date - Jun 19, 2009
Introduction: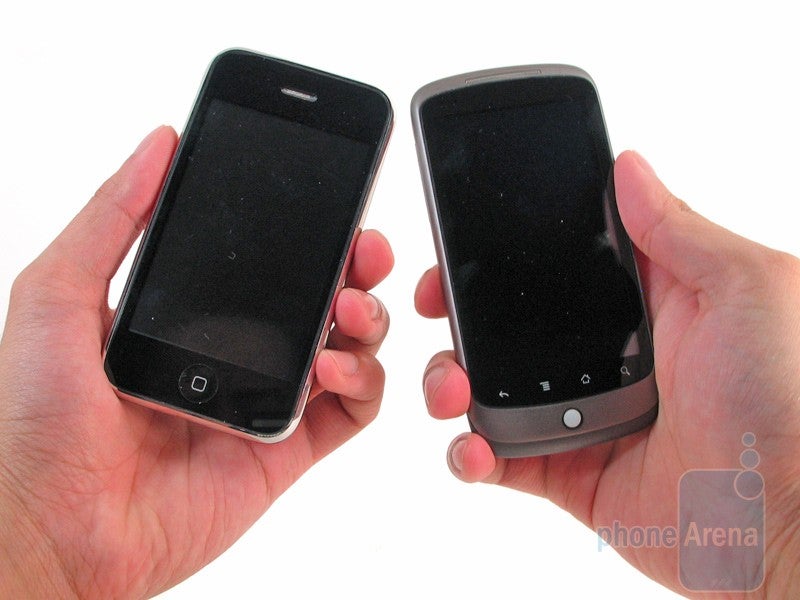 Two handsets compete with one another in attempting to overcome criticism all around to become arguably one of the best phones in the business right now. Apple's
iPhone 3GS
still performs well in a market where it has seen its fair share of trials and tribulations. With a less than direct marketing approach, the
HTC Nexus One
has begun gearing up as the illustrious next dominant Android handset to give Apple a run for its money. Two handsets enter the arena; each seemingly carrying along their specific platforms along their shoulders – with both offering the highest level of performance to radiate among the crop of smartphones out there.
Design:
We've already gone extensively over the design of each handset – instead, we'll focus on what concepts they introduce that ultimately become adopted on future phones. If you consider the Nexus One's footprint as gigantic, then think back a couple years ago when the first generation iPhone was introduced into the market. Up until that point, you rarely saw any smartphones utilize a footprint that large; almost considered as being too big. Most people wouldn't think anything special about the dimensions used by the Nexus One – it became all too normal nowadays to see handsets reach larger forms and not impact the minds of consumers. In the wake of other smartphones, the iPhone's look has somewhat diminished over time – which is partly due to biases that it's been a tried and true look for so long. What the Nexus One has an advantage over is just newer technology; the overall look can go both ways for people – either liking it or they don't. Touch sensitive buttons undoubtedly replace the mechanical build of older handsets – still we see the implementation of physical buttons on the Nexus One. Both handsets exude a high level of workmanship thanks partly to their use of high quality materials. There's no question that the iPhone's build is still superior over the Nexus One – although it doesn't boast the impressive long list of technological advances in hardware under the hood. Sure some will disagree that the iPhone still doesn't have a removable battery, but it's made apparent that Apple opts for simplicity in design as opposed to HTC's concept of giving owners access to the Nexus One's innards.
Most people would argue that the Nexus One's display is better than the one of the iPhone 3GS – yes, it does use an AMOLED display with better resolution (480 x 800), but the iPhone's display (320 x 480) gives off a better feeling of durability. We're still amazed to this day that the screen always looks brand new, without dirt or finger prints, as we take it out of our pockets – thanks to the olephobic coating. On the contrary, the bright and vivid display of the Nexus One clearly outshines the iPhone's, but we'd question how well it would stand up against some extreme wear and tear over time. Newer technology clearly has its advantages by just looking at the Nexus One – its display is more detailed, brighter, and saturated.
Apple iPhone 3GS 360 Degrees View: HTC Nexus One 360 Degrees View: