Amazon Kindle Fire vs NOOK Tablet
15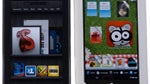 Introduction:
Chiming in at that perfect moment before the holiday season is expected to get its jumpstart, fireworks are sure to fly aimlessly everywhere now that the
Amazon Kindle Fire
and
Barnes & Noble Nook Tablet
are out and available to the masses. Finding that niche spot between dedicated eReaders and full featured tablets, these two affordable devices are knowingly gunning at one another vying for supremacy in this ever-delicate landscape. Priced at $200 and $250 respectively, there's no kidding they're going to eat at some of the usual market share held concretely by the big names in the tablet industry, but the important question you're probably asking, is which one should win over your hard earned money?
Design:
Sure it's a recycled design, but the Nook Tablet easily gets our vote of confidence as being the better looking between the two – well, it's not to say that the Amazon Kindle Fire is bad, but it's seriously way too cookie cutter and boring with its appearance. Thankfully, both tablets are comfortable to hold with one hand, sturdy in overall build, and easily shed that notion of being 'cheap' like some other sub-$250 tablets on the market. However, the Nook Tablet's soft touch coating simply repels dirt and debris significantly better than the Amazon Kindle Fire – thus, resulting in a remarkably cleaner look at all times.
Honestly, when they both sport the same size
7" 1024 x 600 IPS displays
, there's hardly going to be one that's going to offer better detail than the other – they boast the same pixel density of 169 ppi. When it comes down to reading, both are naturally equipped in handling that scenario, but seeing that the Nook Tablet's VividView display is fully laminated, it results in better viewing angles, clarity, and reduced glare. Needless to say, it's nice to see the Nook Tablet maintaining its clarity at all angles, but when you look at the two at a straight 90-degree angle, it's hardly noticeably which one is superior. Yet, we need to hand it to the Nook Tablet on this one for the simple reason that the Amazon Kindle Fire's display has a tendency to cast a bluish color when it's tilted to various degrees.
Due to its prominent feel, the
power button
of the Amazon Kindle Fire is easily the preferred one – though, they both convey tactile responses when pressed. However, we do like that we're able to control volume at any time with the Nook Tablet seeing that it offers us physical
volume controls
, whereas with the Kindle Fire, it's all controlled via the software.
Yes, we can charge and exchange data using the
microUSB ports
on the two tablets, but strangely, the Nook requires its 'proprietary' microUSB cable to charge it. Additionally, they both feature 3.5mm headset jacks, but the Nook Tablet packs a microphone as well.
Finally, the Nook Tablet has one useful thing lining the corner of its
back
cover – well, it proves its usefulness in quickly getting data on/off the tablet. Specifically, it features a
microSD card slot
that will accept cards to supplement its internal capacity.