Latest version of YouTube for Android app features code for a dark theme and more
14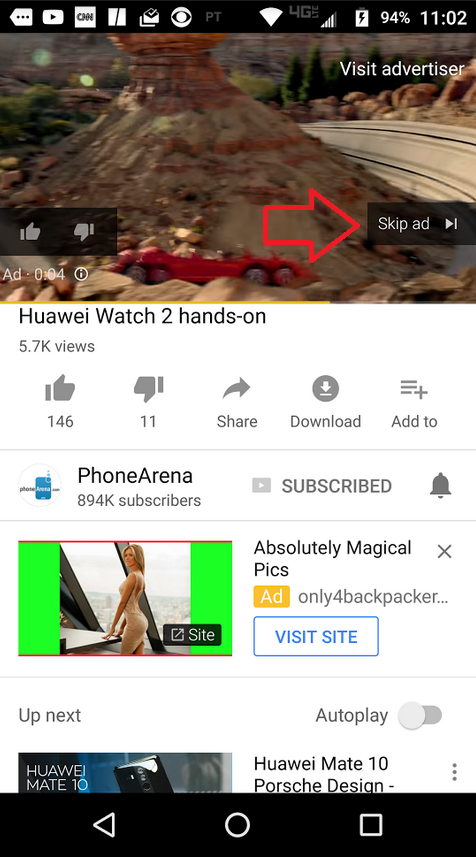 The next update to YouTube for Android may allow you to swipe away ads instead of tapping on the screen
A report published this weekend discusses a teardown of the latest version of the YouTube for Android app (v. 13). Code found inside this new version of the app indicates that the next update could give Android users the choice to activate a dark theme for YouTube. This really wouldn't be shocking considering that on the web, the streaming video site already offers this capability.
Also discovered in the teardown was code related to an incognito mode. Currently, Android users of the YouTube app can go into the History & privacy menu of YouTube and toggle to pause watch history and search history. But incognito mode, also found on Chrome and GBoard, can kill both birds with one stone, so to speak. Speaking of menus, the option to autoplay YouTube videos (which allows you to keep watching the next video automatically once the current one has ended) could have its own menu, with the feature removed from the general settings list.
Another potential change includes the method used to get rid of the ads that play before your video starts streaming. Most of these spots give you the option to eliminate the ad after five seconds by tapping on a box that says "Skip Ad." The new method would allow users to swipe away the commercial after five seconds, which is easier for those with ham-sized fingers who can't press the skip button.
Keep in mind that just because these strings appear in the app, it doesn't mean that they will be implemented with the next update to version 13.01, or with any future revision to the YouTube for Android app.
source:
9to5Google