Verizon TravelPass now lets you take your wireless plan in more than 185 countries
2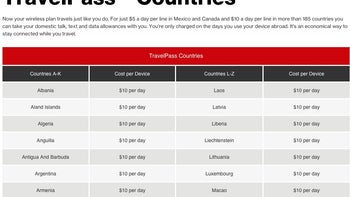 Verizon's TravelPass program is not exactly the cheapest way to stay connected while visiting a foreign country, but if you really want to take your wireless plan with you everywhere you go, at least the already long list of supported countries has been further expanded by the nation's largest mobile carrier.

Apart from Canada and Mexico, where a daily TravelPass costs just $5, using your domestic talk, text, and data allowances in any other foreign territory will set you back $10 per day per line.

You don't have to do anything special to claim a TravelPass either, as you'll receive an international welcome text message as soon as you arrive in an eligible country, with the 24-hour clock started when you make or receive a phone call, send a text, or use data.

Another daily fee will be charged if you continue to use Verizon service after the first 24 hours are up, unless you're an Above Unlimited subscriber. That maxed-out plan starting at $95 a month for a single domestic line includes five complimentary TravelPasses in addition to "premium" unlimited LTE data, HD-quality streaming, and unlimited mobile hotspot.

One last key detail you need to consider before using the Verizon TravelPass service in any of the 185+ countries now supported is that you're only allowed 0.5 gigs of high speed data consumption a day. Afterwards, your connection will be capped at sluggish 2G rates. Or you can purchase an additional 0.5GB high speed data bucket for an extra $5 in Mexico and Canada or $10 everywhere else. That's... certainly not ideal.