T-Mobile expects Sprint merger to close no later than Q2 2019, Q1 completion also possible
3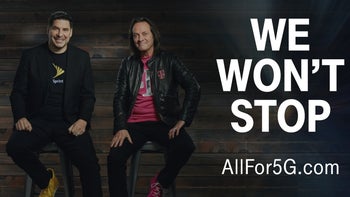 If everything goes according to plan, the US wireless service industry will move from a "big four" carrier lineup to a more compact "big three" arrangement in just a few months, with the the current AT&T/Verizon duopoly likely to be threatened by
a new giant
combining
T-Mobile and Sprint's already robust infrastructure
.
We're talking next year's first or second calendar quarter as the most likely final approval timelines,
as reported by Reuters
following official statements made at an ongoing Morgan Stanley TMT Conference in Barcelona.

Basically, T-Mobile CFO (Chief Financial Officer) and Executive Vice President J. Braxton Carter points towards "depositions with the DoJ" as the last major obstacle to be "completed in a few weeks."
Once the Department of Justice is happy with the deal, making sure customers of other carriers are unlikely to see their rates jacked up in the event of a finalized merger, the Federal Communications Commission should follow suit with
its own seal of approval relatively quickly
.
After all,
it's been many months
since investigations started at the FCC and various US government departments, and no one seems to think of a good reason this deal shouldn't go through.

Still, Carter points to Q2 2019 as the "more probable" time of completion, with Q1 feeling just a tad premature. We'll have to wait and see what happens and when, but Verizon and AT&T should probably start worrying already.
Recommended Stories