T-Mobile tells the FCC that the merger with Sprint is all about U.S. leadership in 5G
11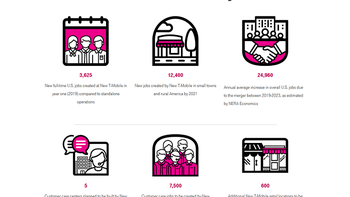 In his usual way, T-Mobile president and CEO John Legere posted some information on T-Mobile's blog today that is related to its proposed merger with Sprint. First, the executive said that the carrier has filed its
Public Interest Statement with the FCC. The document reveals how the public will benefit from the merger; and no surprise, Legere says that there are plenty of benefits for consumers if the deal is allowed to go through.
As was made clear on the day that the deal was announced, T-Mobile and Sprint are saying that the deal needs to be approved so that America can stay a leader when it comes to the next generation of wireless connectivity. Legere's blog post points out that because America led the way in launching 4G LTE service, it led to the birth of many apps in the U.S. that have become leaders globally. The names mentioned by T-Mobile's president and CEO were
Uber, Snap(chat), Venmo and Instagram.
According to Legere, the stakes with 5G are much higher. Companies and consumers will be able to use 5G to do things they've never dreamed of doing with a mobile device. Once the carrier builds out its 5G network, Legere says that two-thirds of the country will see average speeds of 444Mbps and peak speeds as fast as 4.1Gbps. By 2021, 5G speeds on T-Mobile will be 5 times the carrier's LTE speeds. And as the T-Mobile's chief points out, LTE speeds will still be rising at the same time.
And that brings us to T-Mobile's proposed merger with Sprint. Legere writes that the transaction "
is an important contributor to American leadership broadly across economic and social lines." T-Mobile says that analysis by
economist Dr. David Evans forecasts that creation of the New T-Mobile will invoke a competitive response from Verizon and AT&T that will end up cutting the price of a GB of data by 55%, with a 120% increase in data capacity.
"This will transform the way Americans live, work, travel, and play. Nearly every business in America will use 5G to revolutionize how they create and deliver goods and services. And, every market, ranging from gaming to health care, from AI to transportation, from manufacturing to education will benefit. This merger is an important contributor to American leadership broadly across economic and social lines."-John Legere, president & CEO, T-Mobile
An interesting comment that Legere makes is that
"T-Mobile's 5G network will be broad – though not deep, except in select markets. And, Sprint's 5G network will be deep in some markets, but not broad." In other words, according to John Legere, no other combination of major U.S. carriers can help American consumers take advantage of the amazing new era that we are about to embark on.
The FCC and the DOJ still need to approve the T-Mobile-Sprint merger before it can close. And while the argument from both John Legere and his counterpart at Sprint, Marcelo Claure, is a persuasive one, it remains to be seen whether these two governmental agencies will approve the deal.