Pixel owners on T-Mobile can try these workarounds to get their still missing updates
22
A little more than two weeks ago we told you that
T-Mobile
subscribers carrying a phone belonging to the Pixel 6 and Pixel 7 lines
had not received the January update
. Some were even stuck on the November 2022 update. It's been nothing but radio silence from T-Mobile and
Google
so far. One theory was that the carrier was working on adding carrier aggregation support to the Pixel 6 and Pixel 7. To make this simple, carrier aggregation combines two spectrum channels creating more bandwidth resulting in higher capacity and greater speeds.
5G carrier aggregation using T-Mobile's 2.5GHz mid-band spectrum could give customers with compatible handsets as much as a 20% boost in speed. Last June, using its standalone 5G network (which means that the network's core was not used for 4G first), and using carrier aggregation to merge two 2.5GHz channels and 1900MHz airwaves,
T-Mobile recorded record-breaking download data speed over 3Gbps!
So adding carrier aggregation support to the Pixel 6 and Pixel 7 lines is rather important. But still, we don't know whether this is the actual reason why T-Mobile has yet to push out the latest monthly update to these phones.
There is a workaround according to a member of the
unofficial T-Mobile subreddit
but it requires the use of a SIM card from another carrier. If you have one lying around, place it in your Pixel. Restart the phone, put it on Wi-Fi (assuming that there is a Wi-Fi network that you can connect to) and go to
Settings
>
System
>
System update,
and tap on Check for update.
Another workaround requires you to perform a factory reset while on Wi-Fi. One user says that his phone updated right away. Make sure that you backup your data first and use the back up to restore your Pixel.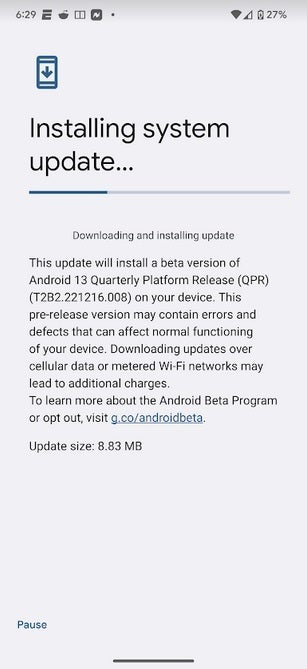 Installing the Android 13 QPR2 beta will also help you get the January update
Lastly, some are installing the Android 13 QPR2 Beta 2.1 update to get the January security patch. If you do this, you must stay with the beta program until the stable version of the software is released in March (probably on March 6th). If you choose to leave the program before then, you will be forced to wipe your phone. And we don't mean with a damp cloth. Still, the QPR betas are not nearly as unstable as your major Android betas are.
To join the program, go to www.google.com/android/beta or
click on this link
. Tap the button that says "View your eligible devices" and under the image of your Pixel phone, tap on the Opt-in box. Follow the directions. Then go to
Settings
>
System
>
System update
to download and install the beta.
Or, you can just wait until the February update is due on February 6th and see whether it arrives. We have reached out to T-Mobile and if we get a response we will update this story.