T-Mobile says it understated, not overstated, 4G LTE coverage in rural areas
23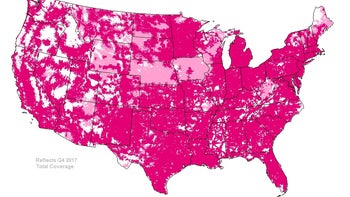 T-Mobile didn't just
go on the offensive against Verizon and AT&T
recently, but also the Rural Wireless Association (RWA), a Washington, DC-based trade association dedicated to ensuring rural carriers with fewer than 100,000 subscribers have a "strong voice" in the nation's capital.

Obviously, T-Mo went after the RWA for an entirely different reason than its somewhat petty 5G-related squabble with the top two wireless service providers in the US. Namely, "several misrepresentations" made to the Federal Communications Commission (FCC) in a December 10 notice of ex parte presentation.

In doing so, the nation's leading "Un-carrier" is accused of stifling network deployment and maintenance by smaller operators in those areas where T-Mobile allegedly overstated its coverage.
In response,
T-Mobile has vehemently denied all accusations
, turning the tables on the RWA, whose "ongoing pattern of baseless allegations" is purportedly "designed to delay or thwart competition in rural America and deprive rural Americans of meaningful choice for broadband services."

One of the most interesting points T-Mo makes in its electronic filing with the FCC is that the documentation provided to reflect LTE coverage as of December 2017 may have actually "understated" the footprint of its network rather than overstating it as expansions continued throughout this controversial challenge process.
That's definitely a bold claim, which the Federal Communications Commission may or may not intend to look into. After all, the names of the "major" carriers
under investigation as of December 7
for potential violations of Mobility Fund Phase II (MF-II) mapping rules were never explicitly revealed, and T-Mobile is quick to point out it has not been contacted yet in relation to these accusations.