Microsoft's groundbreaking Surface Duo is on sale for the first time with no strings attached
8
We may earn a commission if you make a purchase from the links on this page.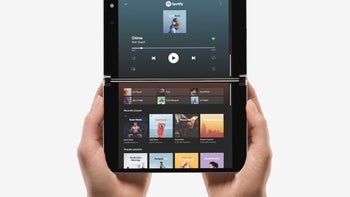 Like any first-gen forward-thinking product aiming to (eventually) disrupt and upend the established standards and accepted conventions of a huge industry, the
Surface Duo
is...
not perfect
. Similar to Samsung's deeply flawed original
Galaxy Fold
, Microsoft's dual-screen device may also seem wildly overpriced to the average power user, who can easily score a significantly faster and more feature-packed phone for well below $1,000 nowadays.
Of course, this is no regular smartphone, and if you've fallen in love with its unconventional design and unique multitasking proposition but couldn't quite find it in yourself to spend at least $1,400, we bring great news today from Best Buy and Microsoft's own official US e-store.
The unlocked
Surface Duo
is discounted for the very first time with absolutely no strings attached, fetching $200 less than usual in both 128 and 256GB storage variants. Even better, if you don't mind meeting one simple requirement, Best Buy will let you save an extra $100. All you have to do to drop the aforementioned $1,399.99 starting price to a considerably more palatable $1,099.99 is activate the flexible Android 10-powered handset right off the bat on your favorite US carrier from Verizon, AT&T, and T-Mobile-owned Sprint.
Otherwise, there are no special conditions to take into consideration, no device trade-ins required, no number port-ins, no nothing. The 256 gig configuration, in case you're wondering, typically costs $1,499.99, a price point that you can take all the way down to $1,199.99 with upfront carrier activation at Best Buy or $1,299.99 with no strings attached whatsoever at the same major nationwide retailer, as well as Microsoft itself.
Keep in mind that both variants come with an unimpressive (by today's $1,000+ standards) 6GB RAM count, as well as no microSD card slot. The Surface Duo also packs Qualcomm's flagship smartphone chipset... from last year, while settling for a single 11MP camera doing double duty as a selfie and "primary" shooter.
Speed junkies may find the absence of 5G support in this day and age pretty disappointing too, but those 5.6-inch AMOLED displays, that marvelous 360-degree hinge, and the insane 4.8mm profile in the unfolded mode might entice more than a few daring consumers to give this bad boy a whirl at its new all-time low price.