Sony Xperia XZ3 price drops further to $500, Xperia XZ2 Compact gets 'clearance' discount
11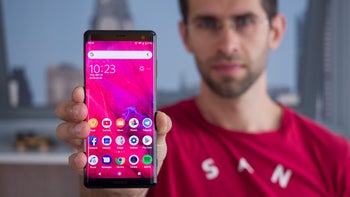 As the official US release of the extra-tall, Snapdragon 855-powered
Sony Xperia 1
is
finally drawing near
, the compelling deals on the Snapdragon 845-packing
Xperia XZ3
are piling on and getting sweeter by the day. Originally available for an exorbitant $900 unlocked, the 2:1 6-incher
recently dropped to $600 at multiple retailers
by itself, also fetching $50 less with upfront carrier activation at Best Buy and $100 more when purchased alongside an Xperia Ear Duo headset that typically costs $200 on its own.
Believe it or not, B&H Photo Video is now selling the GSM unlocked Sony Xperia XZ3 at an even lower price of $499.99 solo, also throwing in a free Mint Mobile 3-month 8GB prepaid SIM card kit separately valued at $60. For some reason, the retailer is listing this as a modest $200 off deal when in fact you're looking at saving a whopping 400 bucks compared to the original recommended price of the high-end handset.
The only compromise you need to make is settle for a Forest Green flavor of the XZ3, which currently sets you back a full $100 less than a black model. If you don't have a problem with that fairly unorthodox paint job, you'll arguably be getting
pretty amazing value for your money
, including a stunning OLED screen with HDR support and 2880 x 1440 pixel resolution, the beastly aforementioned Snapdragon 845 SoC, 4GB RAM, 64GB internal storage space, super-powerful speakers, wireless charging functionality, and a water-resistant design.
Meanwhile, if you've given up all hope of seeing an
Xperia XZ4 Compact
released on the Western Hemisphere, you can get last year's
Sony Xperia XZ2 Compact
at $399.99 as part of a clearance sale at Best Buy.
The 5-incher
packs the same SD845 silicon as its 6-inch cousin, launching in the US at a $650 price point back in the day.
The only color option available at a $250 markdown is white silver, and considering the deal's label, you may want to hurry and pull the trigger as soon as possible if you're interested in a small phone with massive bezels, modern software, top-notch water protection, excellent battery life, and a decent camera.
Check out the Xperia XZ2 Compact deal here