Most recent Sony Xperia phones have a hidden 120Hz display mode that you can't use
28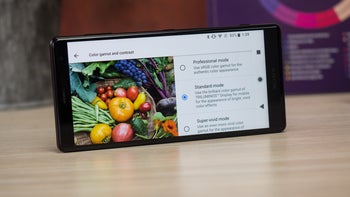 The 2017
Sony Xperia XZ Premium
wasn't a huge success for Sony sales-wise, but it had a real stand-out feature in the form of a beautiful, HDR-enabled 4K display. Shortly after the XZ Premium hit store shelves, rumors began to trickle that the phone's display also has a high frame rate mode of 120Hz, much like the Razer Phone, which launched later in the year. Reports were contradictory, however, as enabling the 120Hz mode allegedly required making modifications to the kernel of the phone, so not many people, outside of developers and enthusiasts, were able to test it and confirm or deny the rumors.
Recently, a number of users over at XDA and Reddit have been toying around with the hidden mode, which has been locked by Sony, but is accessible through a kernel modification. So, it turns out, the Xperia XZ Premium actually supports three display modes: the standard 1080p@60fps, 2160p@60fps, as well as the hidden 1080p@120fps mode.
With the release of Android Oreo for the XZ premium, and thanks to Sony's Open Device program, developers have been able to build ROMs for the device that unlock the hidden 120Hz screen mode, but results have been inconsistent. Rreports from people who've tested AOSP builds with the mode enabled are contradictory. Some say there's an obvious difference, while others claim it's just placebo. We don't know what the problem is yet, but Sony must have had a good reason to disable the mode to begin with.
What's more interesting, however, is that after some digging, XDA developer
Myself5
has discovered that the 120Hz screen mode is also present on a bunch of other recent Sony phones, but is disabled and hidden by default, just like on the Xperia XZ Premium. The models that have been confirmed to support the high refresh rate mode are: Sony Xperia X, Sony Xperia X Performance, Sony Xperia XZ, Sony Xperia XZ1, Sony Xperia XZ1 Compact, Sony Xperia XA2, and Sony Xperia XA2 Ultra. The only recent Xperia phone that is an exception is the Xperia X Compact,
XDA
reports.
Unfortunately, however, AOSP ROMs compiled for the aforementioned devices can't use the 120Hz mode, as the toggle to enable the 1080p@120fps mode doesn't work. This is not to say that the screens on these devices do not support higher frame rates though, since developer
Myself5
has discovered that actually setting the kernel to default to the 120Hz mode does, indeed, work.