Portable Sonos Move smart speaker goes official with premium sound and two voice assistants
2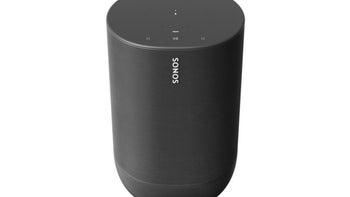 Smart speakers
are all the rage nowadays, with the
global market growing at a pace
that would have made smartphone vendors jealous a few years ago, but for some reason, portable Bluetooth speakers with voice assistance are not yet a thing. Sonos aims to change that in a big way,
making its "first step outside the home" today
with the announcement of a battery-powered smart speaker supporting both
Google Assistant
and Alexa right out the box.
Unsurprisingly, the Sonos Move doesn't come cheap,
fetching $399 on pre-order right now
, with global availability set to begin on September 24. We'd also hardly call this bad boy portable or compact, as it tips the scales at a whopping 6.61 pounds, which even makes the
Apple HomePod
seem lightweight in comparison.
But fret not, as the signature Sonos design includes a nifty handle to help you lug this thing around with relative ease. Besides, the sleek oval-shaped "shadow-black" speaker is made to resist falls and bumps, as well as rain, moisture, dust, dirt, UV radiation, and extreme temperatures, which explains (at least in part) why it needs to be so bulky. Then again, you should probably consider an alternative audio setup for your next pool party, as the Sonos Move carries IP56 certification instead of a higher rating for complete water protection.
The portable smart speaker naturally excels in the sound quality department, at least according to its manufacturer, with "surprisingly" deep bass, a wide soundscape, and automatic Trueplay tuning in tow. In other words, the Sonos Move should deliver stellar audio performance both indoor and outdoor while customizing the listening experience based on your surroundings with absolutely no effort from the user.
Thanks to Bluetooth functionality, the powerful speaker will easily connect to your phone or tablet to play music on the go, promising to keep the party going for up to ten hours on a single charge. When used at home, the Sonos Move can sit on a sleek charging base and answer your questions, deliver the news, control smart home devices, and much more by summoning Alexa or Google Assistant on a Wi-Fi network.