Samsung Internet 15.0 beta brings new features to Galaxy devices, improves privacy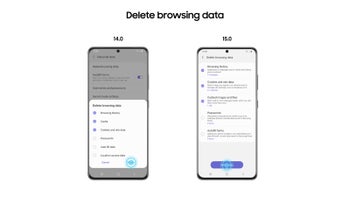 Samsung
released a new beta version of its mobile browse, which adds a couple of important new features and improvements meant to protect user information and enhance ease of use.
One major addition to
Samsung Internet Browser
is protection against fingerprinting. The latter is a new technique that tracks network usage to correlate information about users. Samsung Internet 15.0 beta prevents this method of obtaining information about users thanks to the enhanced anti-tracking technology included.
Additionally, the new version of the browser makes it easier for users to remove data stored on their devices and offers them a better view of what will be removed.
With Samsung Internet 15.0 beta, users can enable Secret mode and the browser will remain this mode as a default, so you won't have to activate it every time.
Furthermore, the updated browser features a new Search Widget that makes it easier than ever to search for information directly from the home screen. More importantly, you can either type or use your voice to search online.
Last but not least, Samsung Internet 15.0 beta temporarily stores previous web pages visited by users so that they can be pulled back up without having to reload them, which will reduce data usage.
Users who don't want to install beta software on their Galaxy devices should know that Samsung
announced
that following the beta testing period, Samsung Internet 15.0 will be officially launched in late summer.