Best Samsung Galaxy S22 Ultra deals
We may earn a commission if you make a purchase from the links on this page.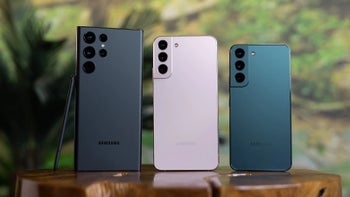 The
Galaxy S22 Ultra
is Samsung's surprising bestseller for 2022 as it is a fantastic device that's pretty easy to drool over. We say surprising because it also comes with the hefty price tag to go, so finding a deal — any sort of deal — before pulling the trigger on one would be a good idea.
For instance, upgrade from your old Note 20 Ultra or last year's stopgap S21 Ultra you bought to soothe your Note-less pains, and it's an immediate $600 off, plus an instant $225 discount by Samsung!
Galaxy S22 Ultra price
You can buy Samsung's crown jewel the Galaxy S22 Ultra priced at $1199.99 for the 128GB model directly from Samsung with numerous bonuses, or opt for the 256GB and 512GB versions, each now with a discount from the original price of the previous step.
The cherry on the S22 Ultra price cake is the 1TB model that will run you $1599, but it is often out of stock, as it is a Samsung store exclusive variant.
If you go to your carrier, be it Verizon, T-Mobile, or AT&T, the Galaxy S22 Ultra price stays the same, at $1199 for the 128GB, $1299 for the 256-gigger, and maxes out at $1399 for the 512GB model.
The carriers, however, may get you a free Galaxy S22 Ultra against a plan signing, or at least a heavily discounted on, depending on the running deal of the day. Below are all the best S22 Ultra deals, activation discounts, free gifts and purchase bonuses you can get right now.
Samsung Galaxy S22 Ultra deals
Best S22 Ultra deals at Samsung
Up to $600 (for an S21 Ultra) off with a trade-in, or $315 for a device with a cracked screen.
$225 instant Samsung rebate.
3 exclusive S22 Ultra colors: Red, Sky Blue, and Graphite.
Exclusive 1TB unlocked model.
Discount bundles: 30% off the Watch 4 or Watch 4 Classic, 30% the Tab S8 Ultra, and more.


At launch, Samsung gives up to $800 trade-ins for phones you are most likely to upgrade from, like the Note 20 Ultra or S21 Ultra, and will even take $615 off the S22 Ultra price if those come with cracked displays.
Based on our
Galaxy S22 Ultra vs Note 20 Ultra comparison
, we'd imagine a lot of people would be upgrading from a Note, too. You also get $150 in Samsung store credits on the spot, as well as a 1TB model you can only get unlocked from Samsung.
If you order a Galaxy S22 Ultra into your basket and continue on the Add-on page, you'll be able to get big discounts on a bundle with the following Samsung devices:
40% off Tab S7 FE, Tab S7 or Tab S7+
25% off Tab S8 and Tab S8 Ultra
30% off Galaxy Watch4 Classic
13% off Galaxy Buds2
41% off Galaxy Buds Live
19% off Galaxy S21 FE with Free Galaxy Buds Live
37% off Jet Bot+ Robot Vacuum with Clean Station
23% off Samsung Jet 75 Complete Cordless Stick Vacuum
Verizon, AT&T, and T-Mobile Galaxy S22 Ultra deals
$50 instant activation discounts at Samsung.
$100 or $200 in free storage upgrade.
Trade in any damaged phone at Verizon and get $800 towards the S22 Ultra.
Trade in any phone on AT&T, even a cracked screen one, and get $800 off the Galaxy S22 Ultra.


T-Mobile, Verizon, and AT&T seem to have better deals if you activate on these carriers via Samsung, as it applies instant discounts instead of trade-ins only, and tacks on gifts like the $100 instant credit, not to mention the four exclusive colors you get there. Here's how Verizon's $1000 off deal sounds at Samsung:
Buy a new Galaxy S22 series on Verizon Device Payment Program
Device line must be on select unlimited data plans (Above, Beyond, Do More, Play More, or Get More) prior to placing your new device order
After you place your Samsung order, visit the Verizon Trade-in site to process your trade-in
Bill credits will be applied to your Verizon account after the trade-in process is completed with Verizon
Otherwise, Verizon offers $800 off with a trade-in for any damaged phone, while AT&T and T-Mobile go with $800 trade-ins with a plan subscription, too. The list of devices you can get $800 for on AT&T is rather impressive, though, making its trade-in deal basically a free Galaxy S22.
To qualify for the $800 Galaxy S22 Ultra credit at AT&T, trade-in must have a minimum of $35 trade-in value before device condition questions have been answered. Eligible devices:
Apple iPhone: 7, 7 Plus, SE (2nd gen), 8, 8+, X, XR, XS, XS Max, 11, 11 Pro, 11 Pro Max, 12, 12 mini, 12 Pro, 12 Pro Max, 13, 13 mini, 13 Pro, 13 Pro Max
Samsung Galaxy: S, S 4G, S Aviator, SL, S Blaze, S Duos, S Duos 2, S Glide, SII, SII HD, SII LTE SII Plus, SII Skyrocket, SII X, SIII, SIII Mini, SIII Mini VE, S Lightray 4G, S Plus, S Relay, S Showcase, S Vibrant, S3 Neo, S4, S4 Active, S4 BE, S4 Duos, S4 Mini, S4 Triband, S4 X, S4 Zoom, S5, S5 Mini, S5 Sport, S5 Active, S6, S6 Active, Edge+ Duos, S6 Edge, S6 Edge TD, S6 Edge+, S7, S7 Active, S7 Edge, S8, A50, A50s, A51, A70, S8+, S9, S9+, S9+ Duos, A71, A71 5G, S10, S10+, S10 5G, S10e, S10 Lite, Note, Note II, Note3, Note3 Neo, Note4, Note4 Duos, Note4 S, Note Edge, Note5, Note5 Duos, Note7, Note8, Note9, Note10, S20, S20 5G, S20+, Note10+, Note10+ 5G, Z Flip, S20 FE, S20 FE 5G, S21 5G, XCover Pro, Fold, Fold 5G, S20 Ultra 5G, Note20, Note20 Ultra 5G, S21+ 5G, S21 Ultra 5G, ZFold2 5G, Z Flip3 5G, Z Fold3 5G
Google: Pixel 3, 3 XL, 3a, 3a XL, Pixel 4, 4 XL, 4a, Pixel 5, 5a
LG: Stylo6, V50 ThinQ, V60 ThinQ, WING 5G
OTHER: Moto Z4, Razer 2, OnePlus 6T, OnePlus 7 Pro, OnePlus 7 Pro 5G, OnePlus 7T, OnePlus 7T Pro 5G McLaren, Nord10, Asus Rog Phone2, Moto Edge+, Moto Z4, OnePlus 8 5G, OnePlus 8 Pro, OnePlus 8T, OnePlus 8T+, moto razr 5G, ZTE Red Magic 3, Microsoft Surface Duo, OnePlus 9 5G, OnePlus 9 Pro 5G



Best Buy and Amazon Galaxy S22 Ultra deals




$100 off the Galaxy S22 Ultra at Amazon and Best Buy.


Amazon and Best Buy usually take part in the Galaxy discount fun, but right now Best Buy only offer $100 off the price if you activate the S22 Ultra on your carrier of choice, while Amazon slashes the price by $100 directly, and that's that.
Preorder the Galaxy Z Fold 4 and Galaxy Z Flip 4 now
You can now also preorder your
Galaxy Z Fold 4
or
Galaxy Z Flip 4
at Samsung's online store. The foldable phones will be released on the market on August 26, but you can score great preorder deals before that.