Official leather case for the Galaxy Fold price leaks. Guess how much...
6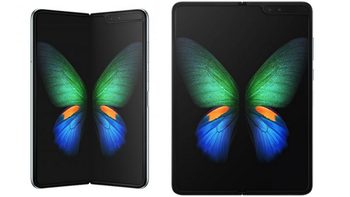 So, the Samsung
Galaxy Fold
is about to go into users' hands in about a week. And, of course, anyone who invested in the futuristic phone will probably want to protect it. The Fold does come with a kevlar case in the box, but if you want something a bit more stylish, you will have a choice on launch day, it seems. On Samsung's official accessory page, we could see a
leather case
in black and white. What we couldn't see is how much it would cost.
Posted by prolific
leakster Roland Quandt
, we now have an expected price and you might not like it. According to the report, the leather case will cost €100 in Europe, and we suppose that would translate to $100 in the States. Then again, if you've already spent $1,980 on the phone, what's $100 for a case?
In terms of design, it's pretty much the same as the case you get in the box — it protects the phone's front and back without getting in the way of the hinge. Of course, the leather case will be a bit bulkier and a bit softer, possibly providing a tiny bit better protection against drops.
The Fold is coming!
The Galaxy Fold should be shipping to its first customers next week. If you want to pre-order one right now, you can't — the first batch of phones sold out as soon as Samsung put them up on its site. Your next best bet is to walk in a T-Mobile or AT&T store on launch day — the 26th of April — and hoping that you'd be lucky enough to find one.
Then again, you may want to hold out for a bit. Tech pundits and YouTubers have found that their Fold phones are... less than reliable and might
break down
a bit too easily. And, if you need someone to help you out with some reasonable arguments on why you shouldn't spend $2k on this phone, check out
this article
.
Or don't — it's an awesome concept of a phone and nobody will judge you if you get one... Well, the people who couldn't get to the store in time might.