Amazon shaves a huge chunk off the price of the impossibly good Pixel 6 Pro
9
We may earn a commission if you make a purchase from the links on this page.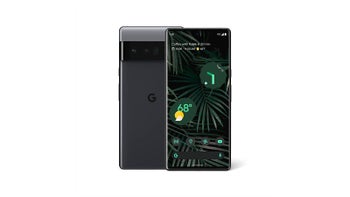 Google's Pixel phones are proof that feature-packed phones don't have to cost an arm and leg and the company's excellent
Pixel 6 Pro
is currently even cheaper on Amazon.
Despite being a year old, the Pixel 6 Pro is still a very capable phone and easily holds its own against
newer top smartphones
. It's a looker of a phone with a fresh design and sports a sharp 6.7 inches display with a dynamic refresh rate of 120Hz for buttery smooth animations.
The Pixel 6 range was the first with Google's homebaked Tensor chip which gives it a unique edge over competing phones. The proprietary chip makes for a more optimized experience and brings new AI capabilities to elevate photography and speech recognition performance. The chip is also sufficiently powerful for daily needs.
The Pixels are known for their exceptional cameras and the Pixel 6 Pro is no different. Its triple camera array, aided by Google's software smarts, churns out professional-grade images which don't look fake or overly processed. For an artistic touch, it has features like Action Pan and Long Exposure. Night-time images also come out detailed and sharp, which is not something you can say about most phones on the market.
The Pixel 6 Pro has a 5,003mAh cell and though battery life is not outstanding, it is above average and will make it to the end of the day.
The Pixel 6 Pro was already priced more reasonably than competing flagships and right now, you can get it for $604 instead of $899, which is a discount of almost $300. That's a great price for a phone with a premium design, pin-sharp screen, fantastic cameras, and uncomplicated software experience.
If you are tempted to spring for the Pixel 7 Pro, keep in mind that not only will you have to spend more, but it's also not a huge upgrade over the Pixel 6 Pro, and only offers a few extras such as the marginally faster G2 chip and slightly better zoom.
The Pixel 6 Pro will be supported for four more years, so it's not about to go obsolete anytime.
Recommended Stories