Reliable tipster reveals which phone will have the brightest screen
2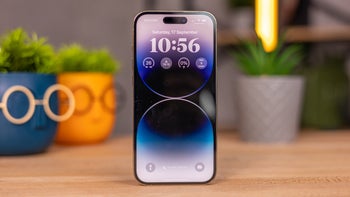 Which phone is expected to deliver the brightest screen based on peak nits? The iPhone 14 Pro you say?
BUZZ!
Ok,
it must be the Galaxy S23 Ultra, right? After all, that heavyweight contender was just released a couple of weeks ago and probably has the brightest display on this planet. Right?
BUZZ!
Well, what could be next? According to reliable tipster
Ice universe
, the answer can be found in China where many of the most innovative phones are designed, manufactured, and sold.
The phone on track to offer the brightest display based on peak nits is the yet-to-be unveiled Oppo Find X6 Pro which sports a display with a peak brightness of over 2400 nits. That compares to 2000 nits for the iPhone 14 Pro, 1900 for the
Xiaomi
13, 1800 for the Vivo X90 Pro+ and the Magic 5 Pro, and 1750 for the Galaxy S23 Ultra.
That the Oppo Find X6 Pro will be a powerful flagship phone is not in doubt. It is expected to be introduced this spring sporting a 6.82-inch 1440 x 3168 AMOLED screen protected by Gorilla Glass Victus 2. It will feature a 120Hz refresh rate and the Snapdragon 8 Gen 2 SoC will be found under the hood. Three 50MP sensors will be behind the rear camera array that includes a primary (wide) snapper with an f/1.8 aperture, an ultrawide camera with an f/2.2 aperture, and a telephoto camera with an f/2.6 aperture.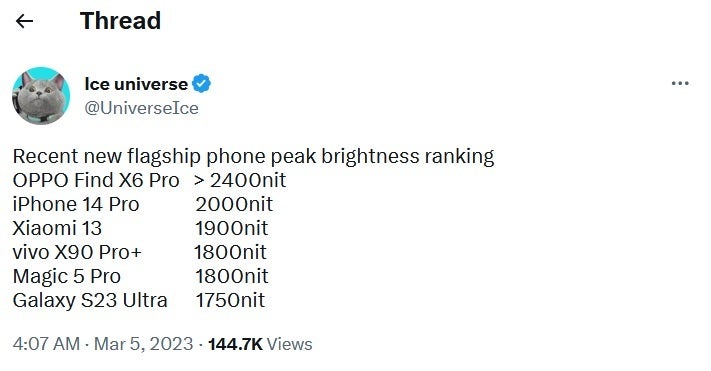 Tipster Ice universe lists the phones with the brightest screens
The selfie snapper weighs in at 32MP and the device is expected to be offered with the following configurations: 8GB RAM/256GB storage, 12GB RAM/256GB storage, and 12GB RAM/512GB storage. A 5000mAh battery will reportedly keep the lights on featuring 100W Power Delivery charging, 50W wireless charging, and 10W reverse wireless charging. The handset will come with an under-display optical fingerprint sensor.
So what exactly is a nit? Sounds like some sort of small flying insect that flies around your face in the summer. Here is the answer. One nit is equivalent to one candela per square meter. One candela equals the amount of light emitted from one candle per square meter. Let's just agree that the higher the nit, the brighter your phone screen will be. And looking at peak nits is a way to measure the maximum number of nits that a screen can produce.
If you plan on using your phone outside a lot and you don't live in England, you might want to check out one of the phones mentioned in Ice universe's tweet. One thing we've learned is that many smartphone owners have their understanding of screen brightness skewed. When it is dark outside, in a room with the lights off, or during the night, you should lower the brightness and do the opposite when in a bright room or it is sunny outside. Many smartphone users incorrectly believe it should be the opposite.