Alleged Nokia 9 specs sheet leaks: Xenon flash and triple cameras in tow?
90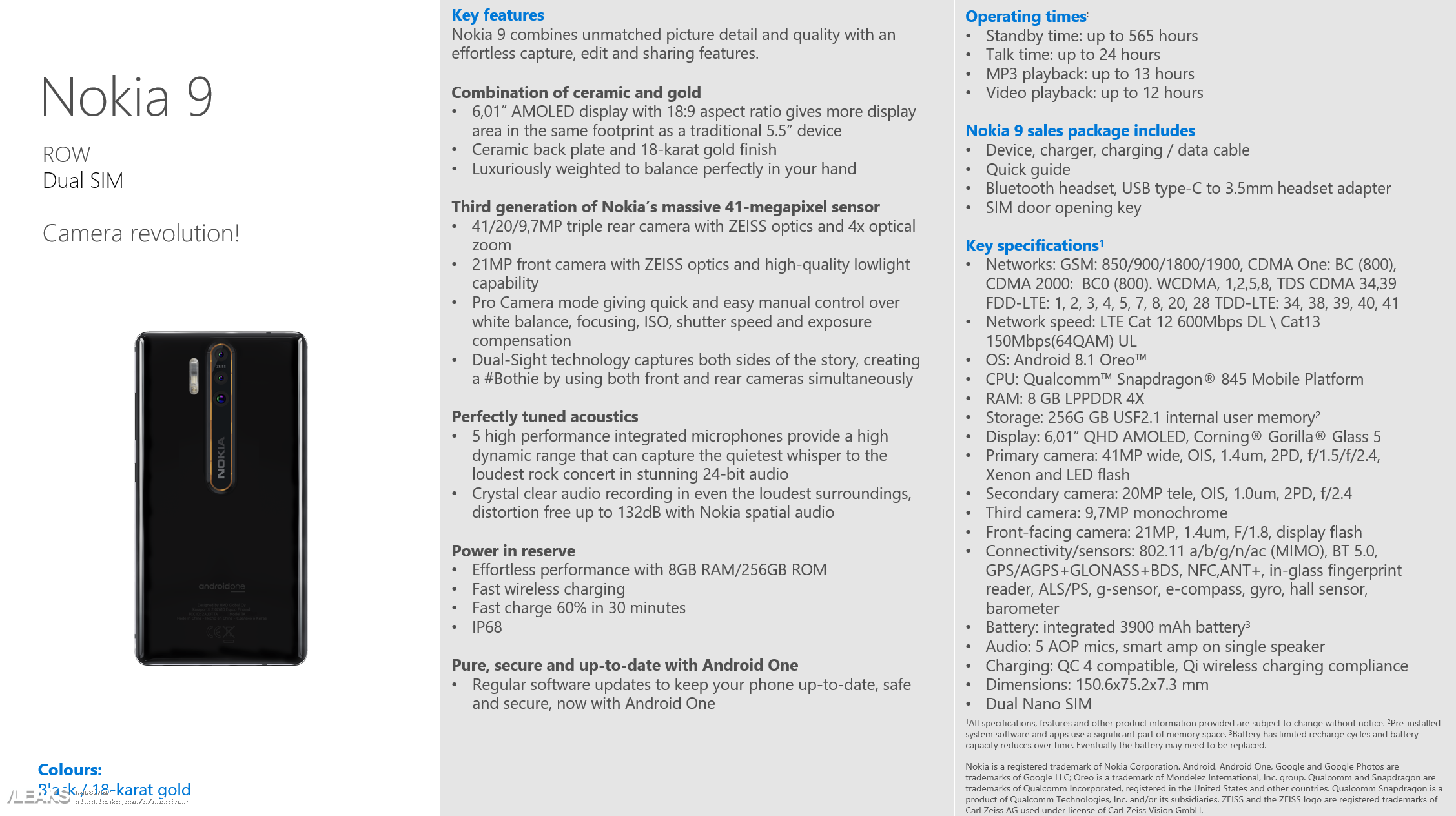 Alleged Nokia 9 specs sheet. There's a lot of interesting stuff in there. Is it too good to be true, however? Perhaps, but still worth a look nonetheless.
Ever since the Nokia brand made its return to the smartphone world, fans have been waiting for a
true
flagship by HMD – a phone that can go head to head with the Galaxies and iPhones of the world. And it seems like the upcoming Nokia 9 may fit that description. Or, at least, it would fit the description based on the latest leaked specs sheet.
A list of Nokia 9 features has surfaced online, suggesting some mighty interesting stuff for the upcoming Nokia flagship. But is it too good to be true? Perhaps, and unfortunately, but it's still worth a look nonetheless.
First off, the list suggests that a ZEISS-branded, triple-lens camera setup may be in tow for the Nokia 9. This actually makes sense, seeing as how the triple-cam Huawei P20 Pro could very well be the result of a
licensing deal
between Nokia and Huawei. Furthermore, the specs sheet lists the three cameras on the Nokia 9 as main (wide), tele, and monochrome — with respective resolutions of 41MP, 20MP, and 9.7MP — which is suspiciously similar to what we saw in the Huawei P20 Pro. The main 41MP camera is also mentioned to have an f/1.5 - f/2.4 variable aperture, similar to the Galaxy S9+, with 1.4 um pixel size.
But even more interesting, perhaps, is the mention of a Xenon flash in the leaked specs sheet. That's a feature that we haven't seen in quite a while on a smartphone, and something that fans have been clamoring for for years. The sheet lists both Xenon and LED flash modules, which, if true, means that users will not only get all the benefits of a powerful camera flash, but also a flashlight. Since Xenon flashes operate in short, powerful bursts, they cannot be used as flashlights. Unfortunately, this doesn't quite fit in with the suggested dimensions of 150.6 x 75.2 x 7.3 mm for the Nokia 9, as Xenon flash modules tend to be on the bigger side. At 7.3 mm, the Nokia 9 would be way too thin to fit in both a Xenon and an LED flash. That's one of the main reasons why Xenon flashes disappeared from phones to begin with – they are just too big to fit inside the slender bodies of modern smartphones.
Other rumored key features of the Nokia 9 include a 6.01" QHD OLED display with an 18:9 aspect ratio, Snapdragon 845 SoC, IP68 ingress rating, "in-glass" fingerprint recognition, and a 3,900 mAh battery. Oh yeah, and let's not forget Android 8.1 Oreo out of the box. Sounds too good to be true? Well, perhaps, but we do have our fingers crossed that
at least
a couple of the features listed here will be making their way into the Nokia 9.
So, would you buy such a phone, if it even existed? Are you excited about the future Nokia phones as a whole, or are you one of those folks who'd rather let go and forget about the brand's former glory? Tell us how you feel about the brand in the comments below!
If you are interested in Nokia handsets, don't forget to check out these stories: