The new Motorola Defy 2 rugged phone is all about satellite messaging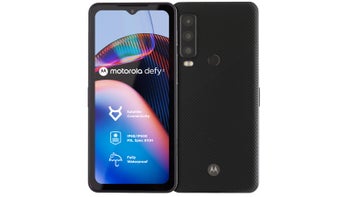 Teased
less than a month ago
, Motorola Defy 2 is the world's first smartphone to use Bullitt's satellite messenger service, which includes not just advanced two-way satellite messaging, but also location sharing and SOS assistance.
The Defy 2 is one of Motorola's most advanced
5G
rugged phones. First off, since it's a rugged device, it's been built to survive drops and falls. In fact, Motorola claims the Defy 2 was lab and real-world tested to heights of up to 1.8 meters, including repeated drops onto a steel plate in every orientation, which seems quite impressive.
Moreover, the phone offers full protection against dust, sand, and dirt ingress, but it's also highly waterproof. The Defy 2 was submersion tested to depths down to 5 meters and subjected to high pressure water jets, which qualified it for both IP68 and IP69K certifications.
But wait, there's more! Motorola Defy 2 has been tested in high and low temperature extremes, in humid environments, and in salt mist conditions. It's also been put through vibration and tumble tests. If you want, you can wash it with soap and water, or even alcohol wipes without any issues.
Sturdiness is not its only strong point
Specs-wise, Motorola Defy 2 sports a large 6.6-inch FHD+ display with 20:9 aspect ratio and 120Hz refresh rate. On the inside, the phone packs a 2.2GHz octa-core MediaTek Dimensity 930 processor, 6GB RAM, 128GB internal memory (expandable with microSD cards), and a massive 5,000 mAh battery.
The phone also includes a triple camera setup (50MP + 8MP + 2MP) and an 8-megapixel front-facing camera. Surprisingly, the Defy 2 will launch with Android 12 on board, but Motorola has already confirmed the phone will receive two OS updates and 5 years of security patches.
Now, what makes this phone stand out apart from its very durable built is Bullitt's Satellite Messenger, which provides users of the Defy 2 with continuous coverage internationally over existing infrastructure. Also, thanks to the new technology, users can message over satellite whenever they have a clear view of the sky.
The service users Defy 2's hardware and the Bullitt Satellite Messenger app, to send messages. First, the phone will attempt to connect via Wi-Fi or cellular, and if neither are found, it will automatically connect via satellite. Recipients who don't have the Bullitt Satellite Messenger can still receive messages as a simple SMS, but they will have to download the app if they want to respond.
It's also important to mention that the cost of messages sent or received over satellite will be deducted from the satellite messaging subscriber's plan with no cost to the recipient. Additionally, SOS Assist is available free for the first year at launch with the Motorola Defy 2 and is included in all plans. Customers interested can subscribe to Bullitt's Satellite Messenger service for as low as $4.99 per month.
As far as availability goes,
Motorola
announced that its new Defy 2 rugged smartphone will be available from Q2 2023 from selected carries across North America, Latin America, and Canada. It will sell for $600 outright, but the price also includes 12 months of SOS Assist, as mentioned earlier.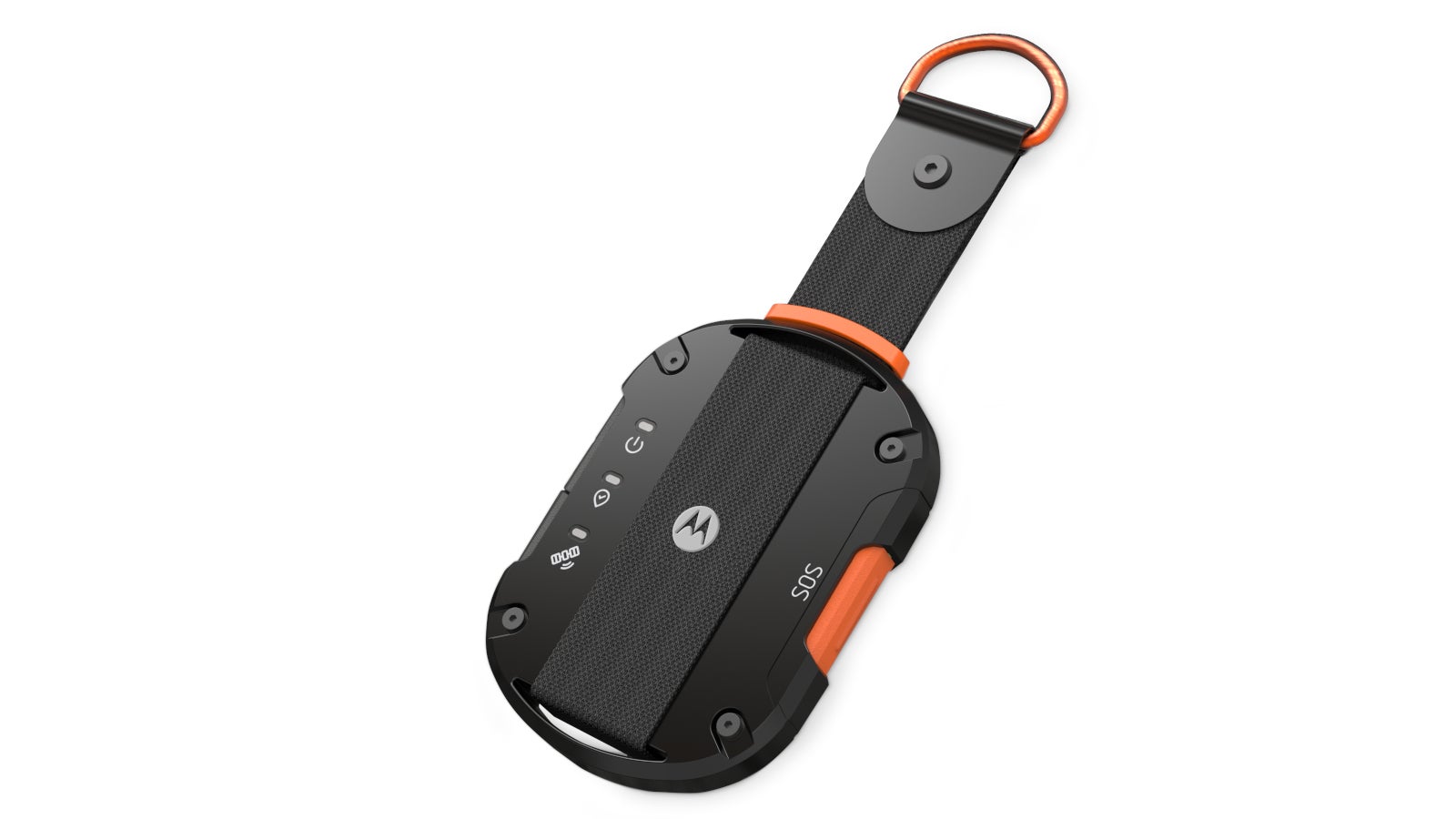 Motorola Defy Satellite Link
In related news, Motorola introduced the Defy Satellite Link, a Bluetooth accessory with an attachment loop that allows Android and iOS users to connect to the Bullitt Satellite Messenger service and make use of the app. The Bluetooth accessory has a 600mAh battery and features Mil-Spec 810H certification. It's also waterproof and dustproof with an IP68 rating.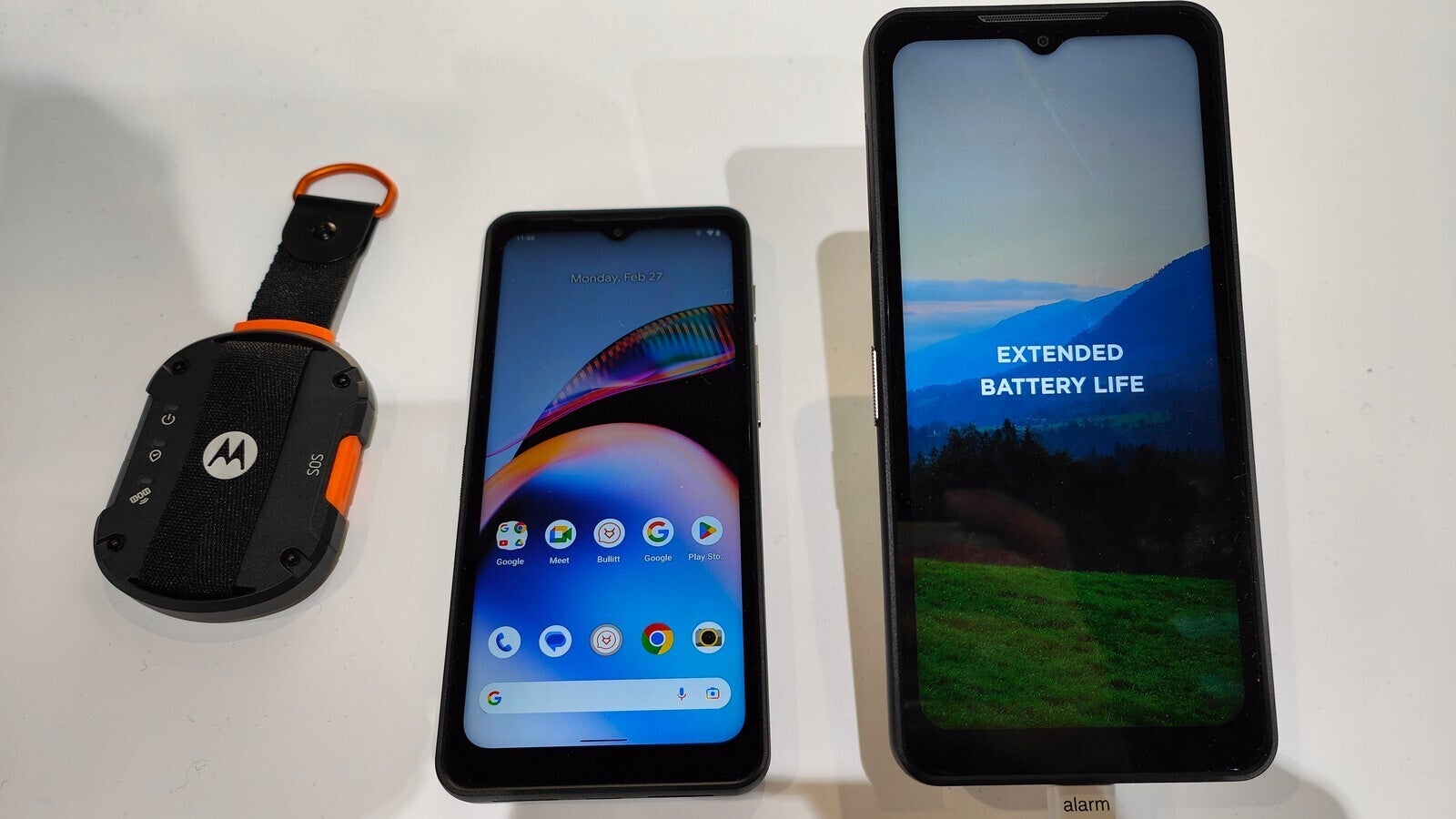 The Defy 2 and the Satellite Link standalone gadget at MWC 2023
Price-wise, the new Motorola Defy Satellite Link will be available for purchase sometime in Q2 2023 for $100. A bundle including 12 months subscription to the Essential Messaging service plan (up to 30 two-way messages per month and SOS Assist) will start at $150.