All games coming to Apple Arcade in June 2022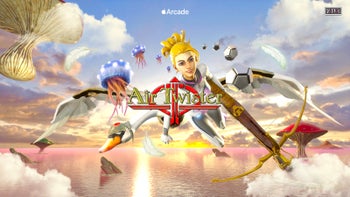 We're just about to finish May and Apple was kind enough to provide us with information about what's coming to its premium gaming service next month. Although there
aren't as many titles
as May brought us, there's a chance that more games will be announced throughout the month.
Three new Arcade Originals and one App Store Great title will be joining Apple Arcade in June. They seem to be spread throughout the entire month to keep us busy. More importantly, they're as varied as they can be, so if like puzzles, cooking or shooters, then you'll probably want to read further.
The first Arcade Originals joining Apple Arcade drops on June 3 and it's called
Frogger and the Rumbling Ruins
. The name probably doesn't say it clearly, but this is a three-dimensional puzzle game where players must guide the protagonist, Fogger, through 100 stages filled with traps and enemies. If that doesn't help that much, perhaps the fact that this is the sequel to the hit Apple Arcade game Frogger in Toy Town will paint a better picture.
Next in line is a very popular Japanese videogame franchise called
Cooking Mama: Cuisine
. As the name suggests, this is a game where you'll have to unlock recipes and cook them to perfection. The good news is Cooking Mama: Cuisine comes with a twist that should set it apart from other games in the same genre.
Instead of selecting a recipe, players must first choose the ingredients, find a combination that works together, and then start cooking. It's worth mentioning though that the only way to find out what is being served up with the selected ingredients is by cooking it. Cooking Mama: Cuisine is set for release on Apple Arcade on June 17.
The third and last Arcade Originals title,
Air Twister
, is expected to arrive on June 24. This is an endless shooter that promises a fun and easy touchscreen swipe-shooting gameplay mechanic and artfully crafted stages, so if you love the genre, you should probably give this one a try. It's worth adding that this is the creation of Yu Suzuki, the mastermind behind the Shenmue series, a very popular JRPG (Japanese role-playing game).
Finally,
Jigsaw Puzzle+
, the new and improved version of Jigsaw Puzzle is coming to Apple Arcade on June 10. Perhaps many of you recognize the name of the game that features one of the largest collections of jigsaw puzzles from iconic brands like Hasbro, Disney, and many more. For puzzle collectors, this surely is a gold mine.