The phone of the future has no charging port (or any other openings)
25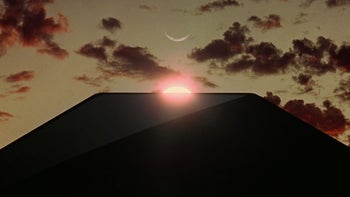 It's like the Monolith from 2001, only glossier and with rounded edges. It also has HAL 9000 a helpful AI assistant built-in
With a steady pace, the industry is moving toward the perfect smartphone. Or at least, what would be considered perfect in the short term. After years and years of bezels, chins, and foreheads, in 2017 the industry started transitioning to nearly all-screen designs with the wider adoption of various types of "notches." This was hardly a perfect solution, however, with many unwilling to accept the notch even as a
stopgap on the way to the true bezel-less device
. So, here we are now, less than two years later, with
'hole punch
' displays on our hands – the next big step that will bring us closer to the
design peak of the rigid form factor
.
But why get excited by holes, when Meizu is about to launch a...
holeless
phone. Okay, that sounds weird now that I've written it, but really, that's what the company is teasing – a holeless phone. But putting this rather uncouth attempt at a marketing buzzword aside, the premise of Meizu's project is actually very interesting and goes far beyond the camera display hole.
What Meizu is teasing a device that has no openings on it – no charging port, no headphone jack, no speaker grills, no creases or hard edges. Just a smooth, uniform surface all around. Vivo is also working on a similar device (likely the Apex 2019) that the company has already teased in a short video (shown below). It does look quite sleek with its uninterrupted curves and glossy finish, or as prolific Twitter leaker
@UniverseIce
aptly puts it,
"it's like a metal soap."
Vivo Apex 2019 – "It's like a metal soap"
All jokes aside, this design has its merits. Although many people would be against the idea of removing any more ports from the smartphone — the 3.5mm headphone jack is still a hot topic for some, thought its remaining days in the smartphone world are numbered — but making a phone with zero "holes" could offer some benefits. For one, it could allow for even better dust- and waterproofing, which would make it more resistant against the elements.
On the other hand, you won't be able to use the phone while it's charging wirelessly, unless, of course, Vivo does the sensible thing and provides a slim wireless charger that snaps magnetically onto the phone's back so you can still hold it and use it while the battery is juicing. Another downside would be the worsened repairability of such a device. With this design, if something happens, your only hope would be warranty.
Reaching the peak of smartphone design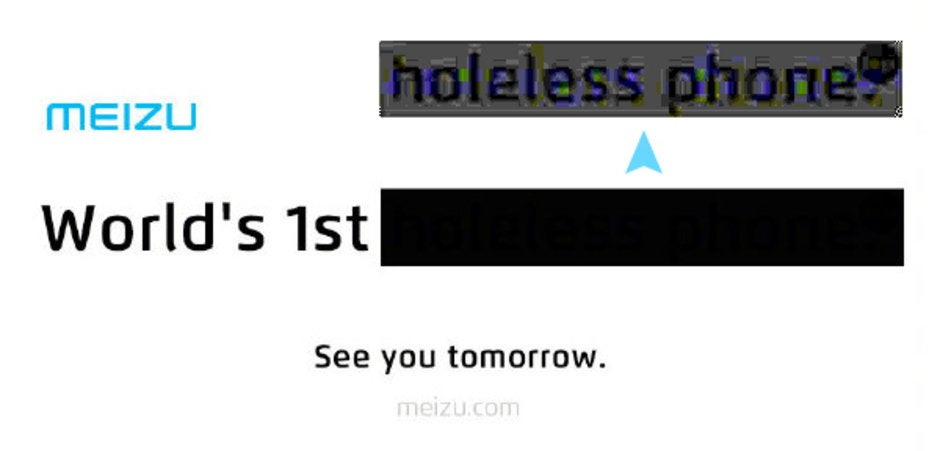 Meizu just teased us with this image. Brightening the image reveals a hidden message in the black bar – "holeless phone"
Making a bezel-less phone without a screen camera punch-hole is easy. Just look at Xiaomi and Honor who've both done it with the
Mi Mix 3
and the
Honor Magic 2
, respectively. Just make the screen slide down and voila – no camera hole. However, this design is not compatible with Meizu's and Vivo's concept, which is for a phone that has no openings or moving parts whatsoever. So, what would be the solution then? The answer is, a real in-display camera.
When Samsung last year announced a new round of "Infinity" displays for mobile devices, one of them sparked a lot of interest online. Three of the displays were notched or had an opening for the camera – the Infinity-U, Infinity-V, and Infinity-O is what Samsung calls them. But during the announcement, a fourth model — dubbed "New Infinity" — was shown that seemingly had neither a notch, nor a punch-hole. Unfortunately, the company didn't provide any details about it on stage.
However, this was enough for the "New Infinity" display to spark discussions about the future of smartphone design. We even took an extensive
look at the tech that would make under-display cameras
possible, which may be similar to what Meizu and Vivo are using for their "holeless" phones.
The future unfolds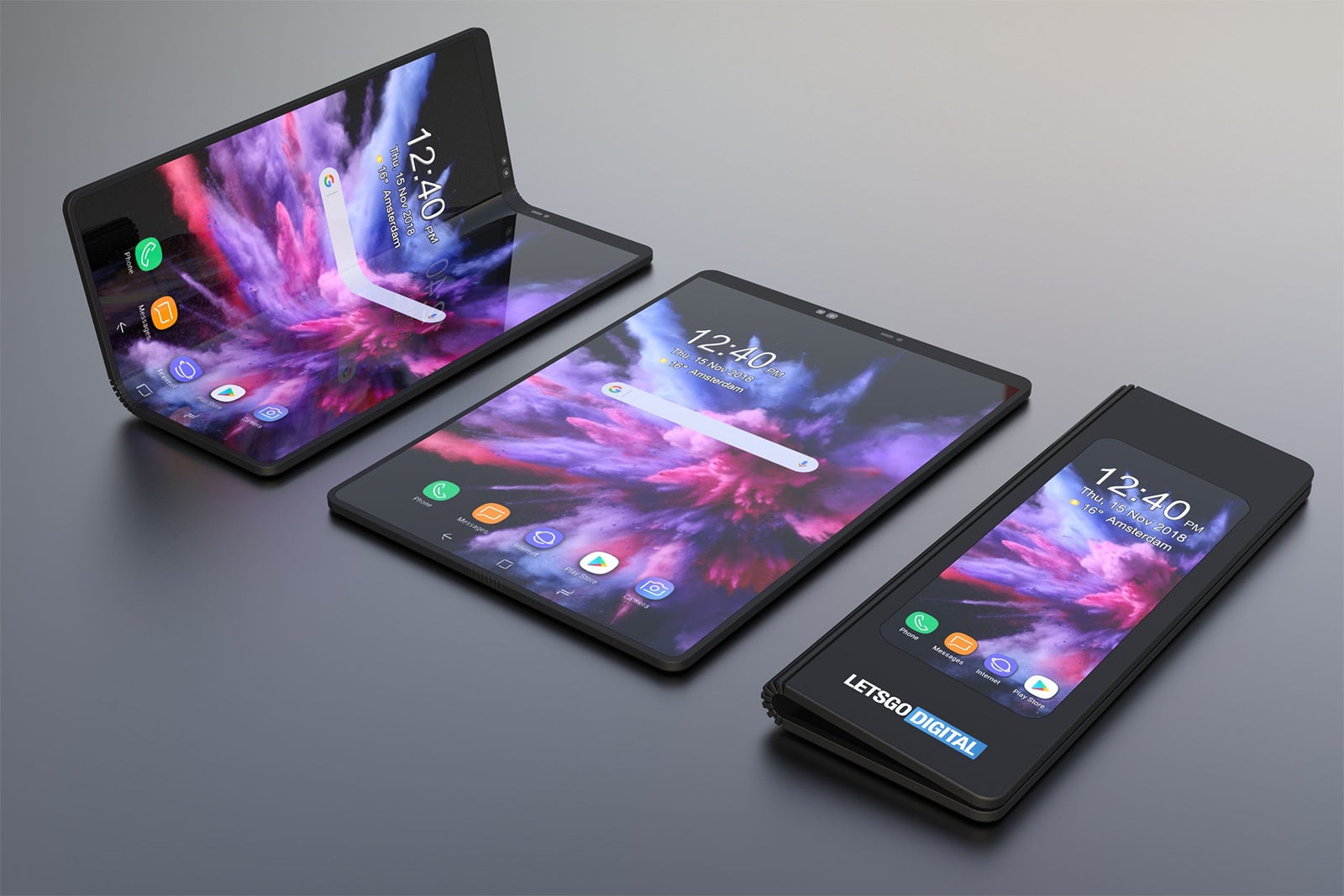 Achieving a true bezel-less design would be the peak for the current phone form factor, but where do we go from there? Well, according to Samsung, the next step would be to change the form factor itself – to transition from rigid to foldable devices.
Since 2011, Samsung has been working on flexible displays, and over the years its flexible phone prototype has become a bit of a joke online. After being teased for years on end, short glimpses of the phone at various trade shows highlighted unfortunate technical shortcomings. However, after close to eight years in development, Samsung now deems the technology ready (or almost ready) for prime time and is reportedly preparing to launch a flexible phone this year.
What's more, the company seems certain that
the future of smartphones is foldable
. In a recent editorial, Senior Vice President and Head of the Visual R&D Team at Samsung's mobile division Hark-sang Kim revealed his firm belief in the foldable form factor:
"We expect to see a sea change in the smartphone form factor in the coming years. From rollable and stretchable devices to the devices that can fold in multiple ways are no longer beyond the realms of reality. Samsung is ready to usher in this future and create meaningful experiences for consumers that help them do more of what they love."
Remember this crazy ad from 2013?
But whichever way the future actually unfolds, we are sure to encounter a lot of variety in the coming years. Asian companies are toying around with wildly innovative ideas, each trying to achieve its own vision of the perfect phone. We've already seen the notch problem mitigated by camera punch-holes, and though they're not even commonplace yet, companies are thinking of ways to get rid of them as well. As mentioned above, the "slider" design is making a comeback and it is currently the easiest way to make an all-screen phone, its many shortcomings aside. And then there's Vivo and Meizu who are working on "holeless" concept phones.
2019 is bound to be a very interesting and eventful year for smartphones. The notch is likely going to make way for display punch-holes, more phones with in-display fingerprint sensors are coming out, Samsung is launching a flexible device, Chinese companies are continuing to experiment with crazy technologies. This, of course, is just a prelude to what is going to follow. With technology evolving at such a breakneck speed, imagine where we'd be a year from now.