Honor Magic 2: unboxing and hands-on first look
25
Aluminum chassis, beautiful glass back, pop-up design: this is the new Honor Magic 2, one of the first in a new class of futuristic all-screen devices with practically no bezel. Excited? So are we, so we rushed to unbox the new Magic 2 and spend some time with the handset.
Inside the box you have the phone of course and it comes with a beautiful gradient finish. There are three different color gradients, we have the blue one, and there is a red gradient and a black one as well. Glass can shatter, though, and that's why we're glad to see a basic silicone case in the box.
And yes, in case you wondered, you can easily slide the bottom part with the case on as there is a cut out specifically made to allow this movement at the bottom of the case. Since the Magic 2 does not have a headphone jack, you do get a dongle in the box. You also have a SIM ejector tool and the absolutely awesome 40-watt SuperCharger, the fastest charger currently available that will top up your battery to 50% in just 15 to 20 minutes.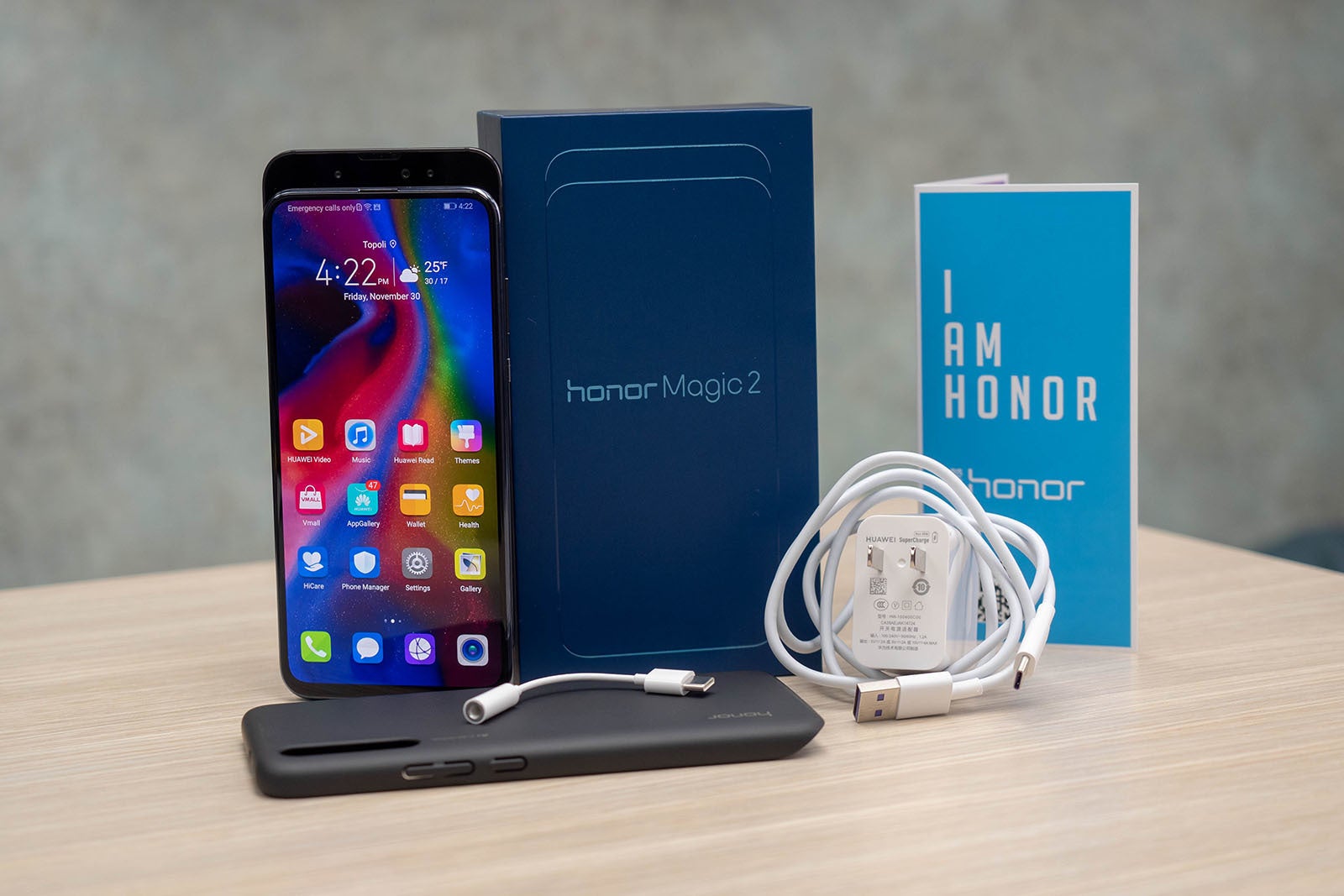 Phone
Silicone Case
40-watt SuperCharger (0 to 50% in under 20 minutes)
USB-C to standard USB cable
Dongle (3.5mm headphone jack to USB-C)
SIM tool
User manuals
Experience
We've already set up the phone and it's worth mentioning that it ships with the latest Android 9 Pie on board, but on top of that you have Huawei's custom EMUI interface. However, right after starting the phone, you will receive an update that changes the interfoace to Honor's own Magic UI 2.0, which looks different and has a focus on AI. We guess Honor was in a rush to release the phone and that's why it shipped it with Huawei's EMUI at the start. Also worth noting is that this phone is currently sold in China only and our unit came with local apps only (this is to say there were no Google apps, not even the Google Play Store!).
Up front, you have a 6.4" AMOLED screen that looks gorgeous. The resolution is 1080 x 2340 pixels, or Full HD+, but it still looks plenty sharp to us. It's amazing that this phone has practically no bezel, no chin and it just feels like you are holding one giant screen in your hand. Truly magical.
The other magical part is the slider of course. Every slide is accompanied with a sound that you can turn on or off, and it does feel reliable and very, very addictive. We love that this phone has 3D face recognition similar to what you have on the Mate 20 Pro. Face recognition is very fast and very secure, with a depth scan of your face, infrared and the whole Face ID story that we know from the iPhone X. However, here you have to first slide the phone down to reveal the cameras and that slows down the process a bit.
You also have an in-screen fingerprint scanner, which is not as fast as a traditional fingerprint, and we actually find it often fails to recognize fingerprint scans from the first attempt, but it's here.
Specs and Performance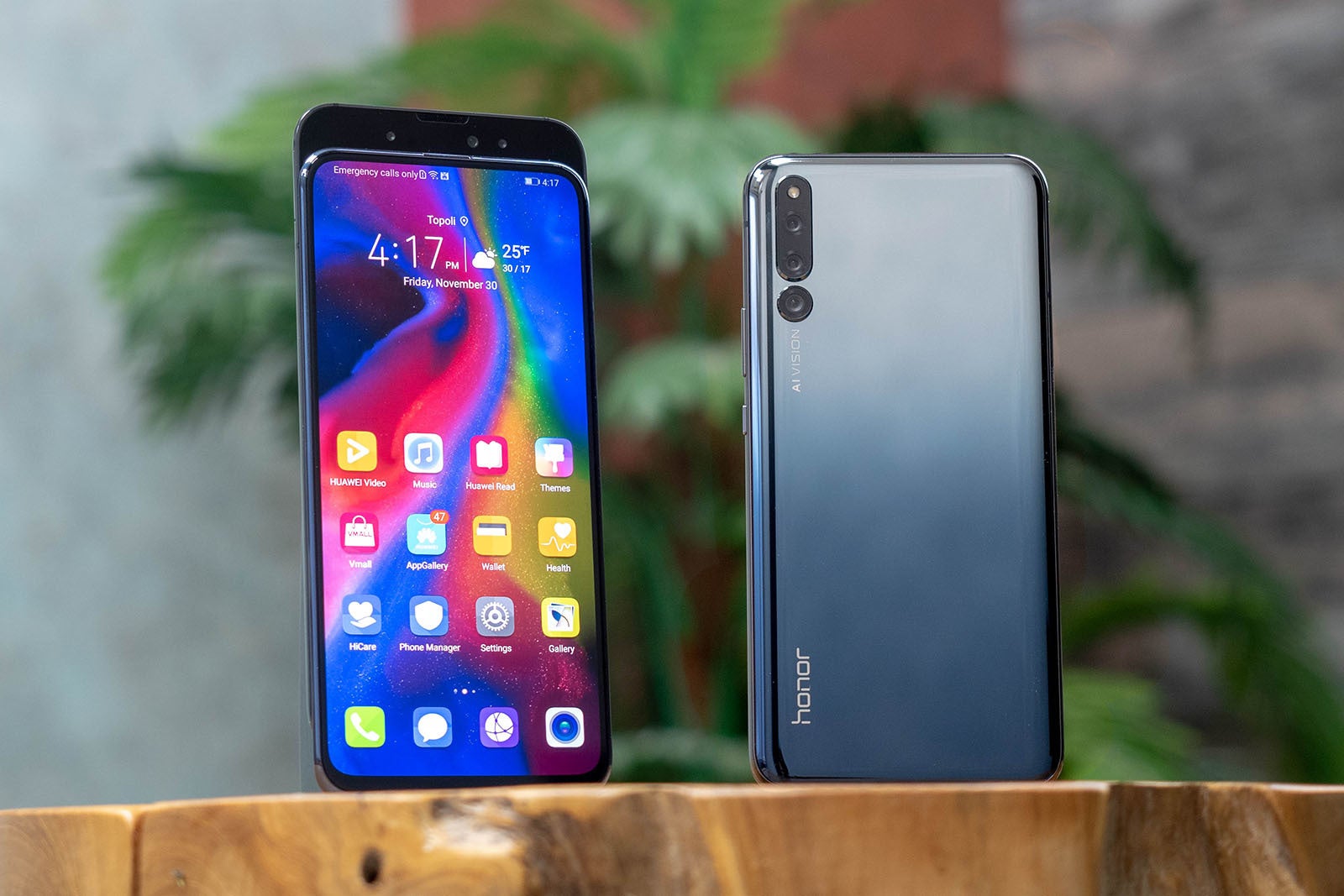 What's impressive is under the hood: the Kirin 980 chip powers the show here. Currently, this is Android's fastest chip, beating the Snapdragon 845. Of course, you also have Honor's signature GPU Turbo mode enabled, making this a great phone for gaming as it runs even the most demanding games without dropping frames or getting too hot.

Here is a quick look at the...
Specs Highlights:
6.4" AMOLED screen, 1080 x 2340 px Full HD+ resolution
In-screen fingerprint scanner + Face recognition, similar to what we have on the Mate 20 Pro
Android 9.0 Pie, with Honor's own Magic UI 2.0 interface
Kirin 980 processor, first 7nm chip on Android, fastest on the platform
GPU Turbo for faster gaming performance
Triple rear camera:
16MP f/1.8 main camera
16MP, f/2.2 ultra-wide secondary camera
24MP, f/1.8 monochrome (B&W) sensor
Pop-up front cameras
128GB / 256GB versions with microSD card support
3,500mAh battery with 40-watt fast charging
Cameras
On the back, you have a triple rear camera, a 16-megapixel main one, an ultra-wide angle sensor and a monochrome sensor. They come with AI digital stabilization and there is no optical image stabilization on board.
In addition to all the standard photo and video modes, there is a cool new AR Lens mode that allows you to add characters to still photos or video, and this is one fun gimmick.

Price, Release date and Final Words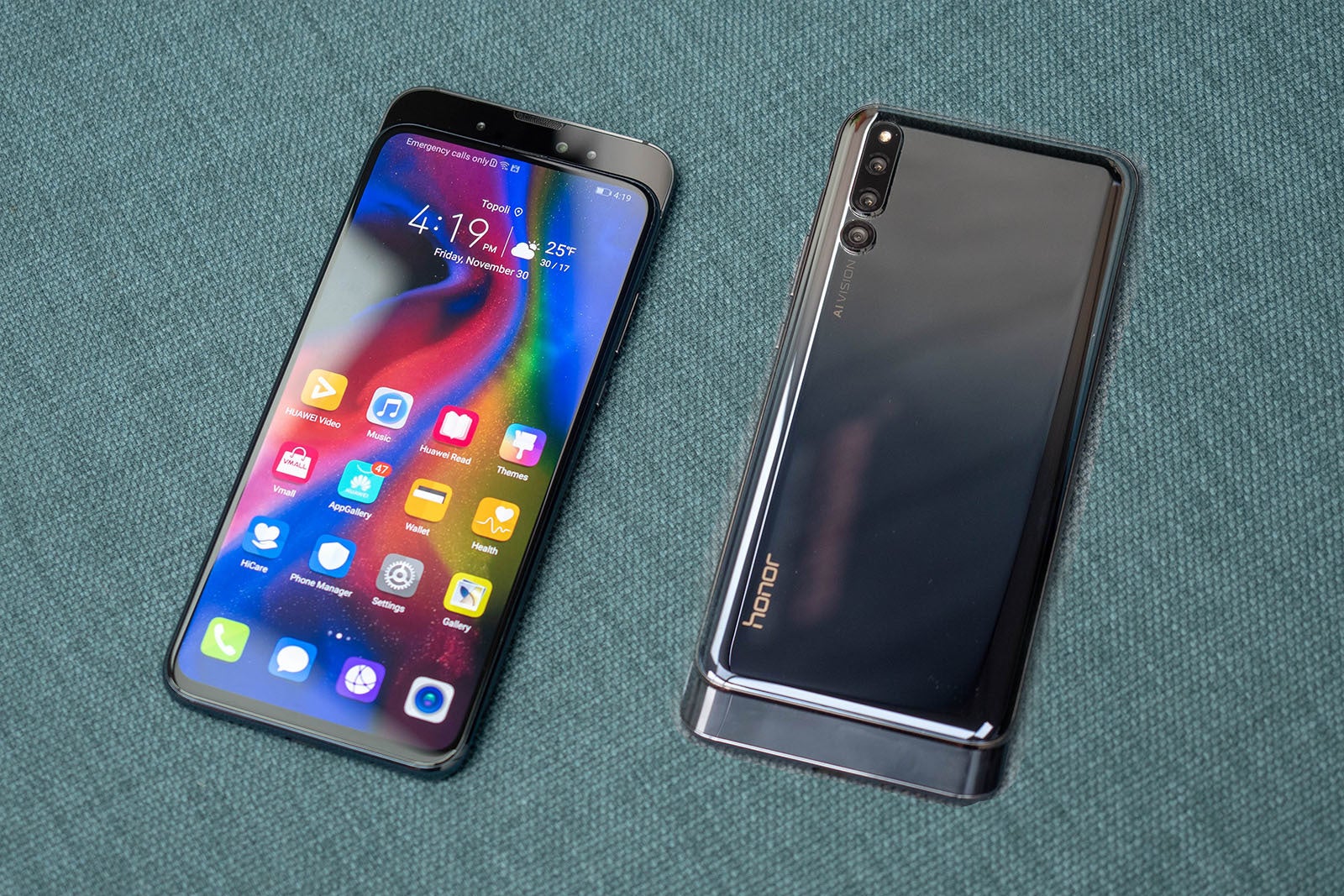 The Magic 2 comes in either a 128GB or 256GB storage versions and it does have microSD card support.

The battery is 3,500mAh and again, the support for 40-watt SuperCharge is just really impressive.

At the end of the day, the Honor Magic 2 lives up to the hype: it's a true bezel-less phone with flagship specs from the future. The slider feels addictive, but slows you down a bit, especially if you use face recognition.
Finally, the Magic 2 is still only available in China with prices from $550 for the 6GB RAM / 128GB storage model to nearly $700 for the 8GB RAM / 256GB version. These preices are still much more affordable than the $950 that Huawei charges for the Mate 20 Pro in China and definitely intriguing. So is the Magic 2 itself, a first peek to a future world of truly bezel-less handsets and we can't wait to learn more about Honor's plans to bring it to global markets in the near future.