This is when the Pixel 6 line will receive the March Feature Drop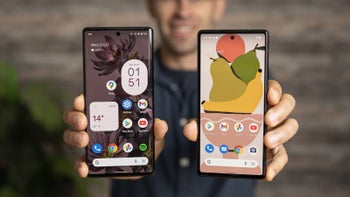 What can Google possibly have against us Pixel 6, Pixel 6 Pro and Pixel 6a users? Sure,
the March Feature Drop (QPR2) was released yesterday
for the Pixel 4a (5G), Pixel 5, Pixel 5a, Pixel 7, and Pixel 7 Pro. You'll notice that the Pixel 6, Pixel 6 Pro, and Pixel 6a are conspicuous by their absence. Also MIA is the Android 13 QPR3 Beta 1 release that was expected for all eligible Pixel models.
As it turns out,
a Redditor claims
to have chatted online with Google Support and while the conversation was in Italian, we used Google Translate which translated the Googler's comments into English. So according to this text, the Google Support member wrote that the Pixel 6, Pixel 6 Pro, and the Pixel 6a will receive the March Feature Drop on March 20th which is next Monday.
The Pixel March Feature Drop will add the improved version of Night Sight to the Pixel 6 line

The March Feature Drop includes releasing the Magic Eraser to all Pixel models. This feature erases distracting people, pets, and items from a photograph. It also adds Direct My Call to the Pixel 4a (5G) and later models. With Direct My Call, users will see on their displays all of the possible options they have when calling certain businesses ("Press one for executive offices, press two for accounting, etc.") even before the automated recording starts. Tapping on the appropriate option will take you there faster helping you save time.
The March Feature Drop brings the Pixel 7 series' enhanced Night Sight feature to the Pixel 6 line. This allows users to snap photos in a low-light environment without using flash. Following the update, Google's Health Connect app will appear on compatible Pixel models by default. This app will be the one place that users can go to for all of their fitness and health data collected from other apps. And the update
will add the Fall Detection feature to the Pixel Watch
.
Suppose you're on the Android 13 QPR2 Beta and want to return to the stable, public Android releases. If you've already opted out of the Beta program, do not tap the button to "downgrade OTA update" or else you'll be forced to wipe your phone. If you receive the public, stable version of QPR2, you can install it without penalty
but only if you exited the beta before Monday
.
If you're still on the QPR2 Beta, you will soon receive QPR3 Beta 1. Before you download and install it, take a breath. If you want to leave the QPR Beta program, do not install QPR3 Beta 1 and install the stable version of QPR2 instead. As long as you do not install the new Beta, you'll be able to extricate yourself from the QPR Beta program without penalty.
You must decide whether or not to stay in the QPR Beta program

If you want to remain in the QPR Beta program, when QPR3 Beta 1 is available for your phone, download and install it. As always, you can check for these updates by going to
Settings
>
System
>
System update
. If you do decide to stick around and run QPR3 Beta 1, you won't have a chance to exit the Beta program without penalty until June 5th assuming that Google releases the June Pixel Feature Drop on time which is obviously something that only desperate gamblers would dare to bet on.
And this stew is going to get even messier next month when
Google
is expected to launch the Android 14 Beta program. Currently, the second and last version of the Android 14 Developer Preview is out which will be followed in April, according to Google's timeline, by Android 14 Beta 1. The final version of Android 14 could be released in August. Before then, on May 10th, we should
hear plenty about Android 14 during the Google I/O developer conference
.
As Google says about Google I/O 2023, "This year's event will be broadcast in front of a limited live audience and is open to everyone online on May 10, 2023. Tune in to the livestreamed keynotes, then dive into technical content and learning material on demand. Registration begins March 7 and is free of cost." You'll be able to view the keynote from Google's YouTube channel by clicking the "Live" tab.
While the keynote is open to all, if you want to virtually attend the other I/O sessions you'll need to register. While this won't cost you a dime, t
ap on this link
, scroll down to the FAQ section, and click on the Registration button.