Save $100 on any iPhone 15 model through this preorder deal at Walmart
1
We may earn a commission if you make a purchase from the links on this page.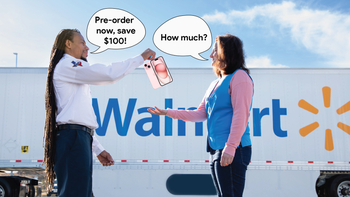 Last week, Apple announced its latest and most powerful cell phones yet, sparking a preorder shopping frenzy. Carriers and online retailers alike started competing against one another in an attempt to throw the best deal. If you still haven't decided where to get your hot device from, we might be able to help out. Currently, Walmart has an ongoing preorder campaign that allows you to save an instant $100 on any
iPhone 15
model with a carrier subscription to Verizon or AT&T. You can save even more with a trade-in.
So, you can place an order for any
iPhone 15
model in any paintjob and storage configuration you like at the merchant and take advantage of an instant $100 off. It's important to note that the savings apply no matter which carrier you choose. However, both Verizon and AT&T offer additional trade-in savings options that may not be identical.
If you select AT&T as your carrier, you can save up to $1,000 on the
iPhone 15 Pro
or
iPhone 15 Pro Max
with a qualifying trade-in and rate plan. If you've made up your mind about getting the
iPhone 15
or
iPhone 15 Plus
, you get to save up to $900 with a trade-in and a rate plan. Trade-in savings are available for Verizon customers as well.
Keep in mind that both carriers require a one-time upgrade fee of $35 that should be applied to your next monthly bill. Talking about monthly bills, let's check out how much each of the four models costs every month.
The vanilla
iPhone 15
goes for $21.64/mo and is paid for in 36 installments (that applies to all other models, too.) If you've set your eyes on an
iPhone 15 Plus
, be prepared to shell out some $24.42. An
iPhone 15 Pro
will cost you about $2 more monthly, and if you've set your eyes on the most powerful of all, the
iPhone 15 Pro Max
, you can get it for $31.92 a month over 36 installments.
Given that the newest Apple devices rarely get exciting discounts, we believe the current preorder campaign at Walmart is just too good to miss out on. If you share our opinion, we suggest you pull the trigger while you can.
Recommended Stories