The iPad 7th gen is a great deal, but consider this before buying one
5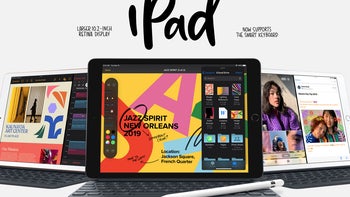 Yesterday, Apple announced — among other things — a new iPad. That's the entry-level iPad, the cheapest $330 one. Apple calls it "7th generation iPad" and it comes as an upgrade to last year's affordable tablet. What's new, you ask? The display is slightly bigger and we now have support for the Smart Keyboard next to the
Apple Pencil
support.
That's pretty awesome, not going to lie — this could be a very effective laptop replacement for casual users. It's powerful, it's fast, it now has a full-fledged keyboard (for $160 extra), and it's pretty affordable at $330. Nice! But I think you can spend your money on something slightly better.
See, the iPad 7th Gen is powered by an Apple A10 Fusion chip. That's the
iPhone 7
processor! You know what else has the same generation of hardware? The long-forgotten
iPad Pro
10.5. But it's kind of better — it has the enhanced Apple A10X version. The logical next step is to shuffle through some marketplaces and see if the iPad Pro 10.5 can be bought and how much it could cost.
Well, look at that — you can actually get one. From the Apple Clearance Store, to Amazon and Ebay, there are plenty of deals to pick from. Granted, a refurbished unit will still run you north of $450, though, there are some direct second-hand deals for less than $400. Some may even come with an Apple Pencil as a bonus! This eBay listing will give you a good idea of how much iPad Pro 10.5 units run for right now.
Now, why am I suggesting you spend a bit more or even go for a second-hand iPad Pro 10.5 when you can buy a perfectly good, brand-new iPad 7th Gen directly from Apple? Well, let's see here:
| iPad Pro 10.5 | iPad 7th Generation |
| --- | --- |
| Has quad speakers, full stereo | Two speakers mounted on same side (not true stereo) |
| Anti-glare display | No anti-glare coating |
| Thinner and lighter, slightly bigger screen | As thick as last year's iPad 6th Gen |
| Hexa-core Apple A10X Fusion | Quad-core Apple 10 Fusion |
So, there you have it. There's this ever-present question in the world of mobile: "Should I buy a brand-new midrange device, or get a flagship from yesteryear". In the case of the iPad, I highly suggest you try the latter.