Instagram feature will allow you to track how much time you spend using the app each day?
4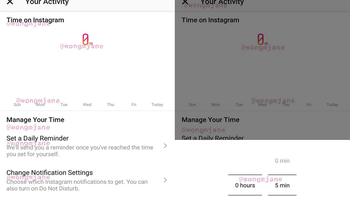 Just like Apple's new Screen Time in iOS 12
measures how much time you spend on your Apple iPhone everyday
, Instagram reportedly is planning on offering its members something similar. According to images unearthed by Jane Manchun Wong from the app's Android APK code, the Facebook-owned picture and video sharing site will call the feature "User Insights," and it will show how often an Instagram subscriber uses the app each day. And
similar to YouTube's "take a break reminder,"
members can have the app send them a notice that they have been using Instagram for a certain pre-set time limit.
Another feature will allow Instagram users to limit how many notifications they receive from the app, which in theory could cut down on their usage of Instagram. A new hamburger menu on the profile page apparently will open up a menu that includes a link to "User Insights."
While "User Insights" has yet to be unveiled by Instagram, the trend toward more "healthy" smartphone use is already in
motion
. You can expect most popular apps to add a similar feature, although we would imagine that very few users will stop what they're doing when a reminder goes off, especially those people who are truly addicted to their phones. The next step would be a mandated shutdown of a phone or an app at certain time intervals, which is something that most of us would never want to see happen.