Crazy: The iPhone X can cost over $3,000 on Amazon
21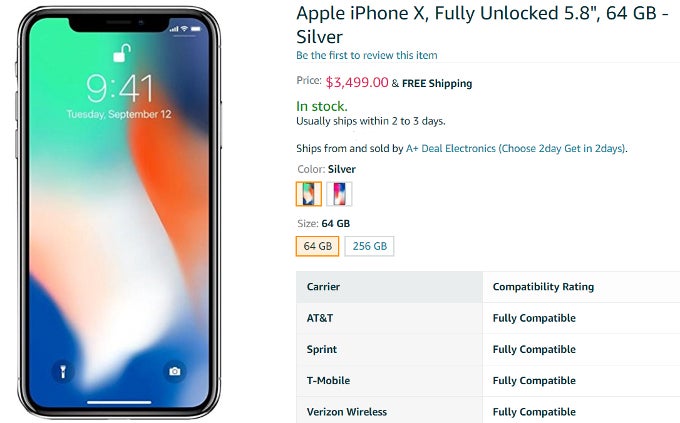 Amazon is not among the official channels that are offeringApple's iPhone X, but various third-party vendors can use Amazon's platform to re-sell the new handset. Right now, if you're searching for an iPhone X on Amazon,you'll find that you can order one for prices significantly higher than those available at Apple andmajor UScarriers.
One particular third-party seller says it can ship theiPhone X in 2-3 days - which sounds nice, given that stock shortages areexpected to affect the device's general availability. However, to get the iPhone X in2-3 days from said vendor, you'll have to pay a crazily high price: $3,499 forthe 64 GB model, or $4,499 for the 256 GB model.
Normally, the iPhone X 64 GB costs $999, while the 256 GBversion is sold for $1,149. Pre-orders have been open since last week, and thenew smartphone will be officially launched tomorrow, November 3, with some units (likely not many) being available in Apple Stores for walk-in customers.
We're certainly not advising anyone to buy the iPhone X viaAmazon, unless they desperately want to get the handset fast, and don't find itanywhere else.
source: Amazon