iPhone Nano could be for real?
This article contains unofficial information.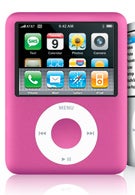 Yes, we have heard this one before. With Macworld approaching, rumors are spreading that Apple will be introducing an iPhone Nano. With a smaller, lower resolution screen, this phone is expected to be wider and thicker than the the iPhone 3G.
While rumors of such a device have burned through the Internet before, this time there is some basis for this being for real. XSKN, a company that offers protective silicon skins for cell phones, has put up for sale on their web site, a covering for the Nano. And if you're still skeptical you might want to know that the same firm put up for sale protective skins for the iPhone 3G before it was officially announced by Apple.
via:
TGDaily