iPhone 7 and 7 Plus prices allegedly leak ahead of unveiling
89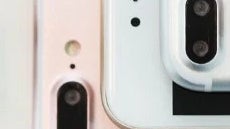 The run-up to this year's iPhone launch has delivered the usual array of twists and turns. The general consensus seems to be that both the
iPhone 7
and
7 Plus
will appear similar to their respective predecessors,
with a few welcome changes and improvements under the hood
. It also looks like Apple will
bump the entry-level models up to 32 GB
, which makes sense given that apps and games regularly creep into the multiple gigabytes. How such enhancements will affect the cost to the consumer, we cannot say for certain. But a purported leak of the retail prices for China does offer food for thought.
A key factor for many prospective buyers will be how much the latest duo costs. Those in China, apparently, can be expected to pay the following amounts for the various configurations:
iPhone 7
32 GB – ¥5288 ($790)
128 GB – ¥6088 ($910)
256 GB – ¥7088 ($1060)
iPhone 7 Plus
32 GB – ¥6088 ($910)
128 GB – ¥ 6888 ($1030)
256 GB – ¥7888 ($1180)
The USD values are mere exchanges of the Chinese numbers, and so don't necessarily reflect the prices Apple will charge at launch in the States. Prices tend to vary dependent on market, too, so straight-up currency conversion is not entirely useful in this case.
To give some context, though, the 16 GB
iPhone 6s
costs ¥5288 in China — the same alleged price as the 32 GB iPhone 7. Likewise the 64 GB retails at ¥6088 — the same figure that prospective buyers may be expected to shell out for its 128-gig version of its successor. If the leak is accurate, only the new 256 GB versions of the iPhone 7
and
the iPhone 7 Plus will incur a fee for their storage double-ups. The top-end iPhone 7 could cost an extra ¥200 ($30), while the iPhone 7 Plus maxed-out at 256 GB could run up an additional ¥100 ($15).
Does this mean that Apple will simply give the cheapest and middling iPhones double memory and charge exactly the same price across the board? It certainly doesn't — there aren't any guarantees that this will even occur in China. With that said, it doesn't mean it
can't
happen either, so here's hoping that the extra flash memory doesn't prompt a major price hike.
We'll surely keep you informed on any further info regarding the iPhone 7 duo as we close in on the launch, so stay tuned.