iPhone 6s vs Xperia Z5: in-depth specs comparison
20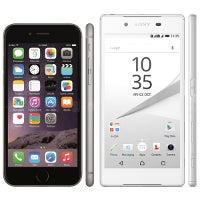 Apple's
iPhone 6s
has finally been
announced
, bringing a much welcome hardware bump, packed in a well-known chassis design. The
iPhone 6
represented the largest incremental increase in an iPhone screen diagonal in the franchise's history, and the
iPhone 6s
now brings some more noteworthy upgrades – a 12 MP camera (up from 8 MP),
3D touch
, and possibly 2 GB of RAM, though, the latter is yet to be confirmed.
How does it stack up against the Android competition, and namely against Sony's Xperia Z5, with which we had a close encounter at the IFA expo just a few days ago? Let's see...
Design
The iPhone 6s is very slightly thicker than its predecessor, but its still a pretty compact handset – measuring at 5.44 x 2.64 x 0.28 inches (138.1 x 67 x
7.1
mm). The Xperia Z5 has a generous screen-to-body ratio of 71%, but a 5.2" display still takes its toll and makes the phone noticeably larger than the iPhone 6s, measuring at 5.75 x 2.83 x 0.29 inches (146 x 72 x 7.3 mm). Still, we wouldn't say that Sony's phone felt difficult to handle, especially since its frosted glass back finish gets rid of the slipperiness that we've learned to expect from the Xperia line. Still, users who put compact first will perfer the
iPhone 6
in this comparison.
Sony's handset can be submerged in five feet of water without any problems, while Apple's creation eschews the water-resistant certification altogether. Moreover, Sony offers two front-firing stereo speakers, stylishly hidden near its top and bottom borders. The iPhone 6s still carries a single speaker, though, given Apple's history, we'd expect it to be a loud and clear one.
Displays
Both Sony and Apple refuse to put their flagship smarthpones on the QHD bandwagon. Apple's phone packs a 750 x 1334 resolution stretched across its 4.7" screen, resulting in a 326 PPI density. The Xperia Z5 has the more orthodox 1080 x 1920 resolution, which culminates in a sharp-looking 424 PPI density over its 5.2" display. While the iPhone's panels are famous for their accurate color representation, Sony's Triluminos tech tended to be a bit more vivid and saturated. We did notice the Xperia Z5 at IFA 2015 to be a bit more tame, with a more natural color temperature, so jury is still out.
Interface
The iPhone 6s sports the newest iOS 9, which makes no changes to the flat look, but adds numerous functionality enhancements to Apple's phones – a touchpad function for the keyboard, much better Notes app, battery life enhancements, et cetera. Needless to say, aside from running perfectly smooth on the hardware that it has been built on, we expect that, thanks to its new features, iOS 9 will also fare quite well in a match against its current competitors.
Processors and memory
Outfitted with a Apple's own sparkly-new A9 processor, the iPhone 6s offers 64-bit computing and specialized coprocessors. While its yet-unknown core clock and count will probably trail behind the 2 GHz octa-core Snapdragon 810 in the Xperia Z5, it certainly won't fall in cross-platform benchmarks against the Z5, and the typical iPhone/iOS synergy would yield splendid interface behaviour, too. Apple also touted a 90% improvement in the graphics department, so 3D games will run without a hitch on both handsets. The iPhone is also rumored to have been treated to a 100% RAM increase, finally bringing the Apple handset's memory up to 2 GB. However, Apple traditionally doesn't like to talk about memory specifics, so we will have to wait a while before that can be confirmed. The Xperia Z5 comes with the regular 3 GB of RAM and 32 GB of storage, expandable via microSD – the latter can't be said about the iPhone 6s.
Cameras
Apple finally updated the 8 MP resolution of its camera to a 12 MP one, outfitting it with a brand-new sensor, which also improves image quality by restricting photodiode cross-talk. The video capture has been improved, too, with slow-mo available in 1080p resolution, and 4K recording finally making it to the iPhone platform. The Z5 shooter's 23 MP resolution might sound impressive, but we can't say that we were too awestruck with its image quality when we had our hands on it at IFA. Still, the Z5's hybrid autofocus system is, indeed, lightning-fast as promised, and the Xperia's snapper is in no way bad, plus the dedicated shutter button makes using the phone as a camera a second nature.
Sony Xperia Z5 vs Apple iPhone 6 Plus camera comparison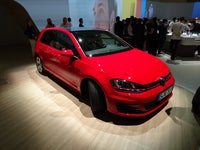 Expectations
If we do a direct, spec-for-spec comparison of the Xperia Z5 with the iPhone 6s, Apple's handset would certainly lose the fight. The Z5 sports a larger display with higher resolution, a higher CPU clock count, more cores, and more RAM memory, plus it has a bigger camera resolution, and more capacious battery.
Apple's way of doing things, however, is not by stuffing a bucketload of powerful, marketable hardware in the iPhone, rather taking advantage of the fact that it develops both its software and its hardware. This allows it to have its operating system work in strong synergy with the hardware, and the user experience is often difficult to beat.
Sure, the Xperia Z5 has a good amount of things going for it – a facelifted design, which still looks great, water-resistance, larger screen, stereo speakers, snappy, clean Android experience – it's easy to see why some people would fall in love with Sony's newest flagship and stick by it.
But we expect that the iPhone 6s will beat Sony's flagship in the camera department, while providing an extremely fluid iOS experience, and being a bit more compact and manageable than the Xperia.