iPhone 6s Plus vs Samsung Galaxy Note5: in-depth specs comparison
43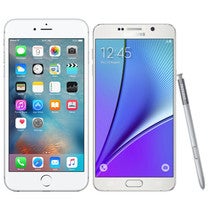 So, what is the best smartphone with an extra-large screen that money can buy today? The
Samsung Galaxy Note5
is one of the first handsets that come to mind. With a gorgeous display, super-fast internals, and a potent camera, it would be an excellent pick. Plus, with its glass-and-metal construction, Samsung's phablet is quite the looker.
Today, however, Apple announced a smartphone that's going to give the Galaxy Note5 some serious competition. We're talking about the
iPhone 6s Plus
, of course. Like the Note5, Apple's phablet is powerful and good-looking, not to mention that rich iOS app ecosystem it has behind its back. Okay, you can probably see where all of this is going. It is time for an in-depth comparison between the Samsung Galaxy Note5 and the iPhone 6s Plus, based on specs and data that we know.
Design
Few would disagree with us if we say that the Samsung Galaxy S6 is a great-looking smartphone. It is constructed of two pieces of glass, held together by a metal frame – an approach that has "premium" written all over it. And the way light bounces off the phone's shiny surface is quite mesmerizing, although those who aren't much into shiny things could be turned off by it. As for the iPhone 6s Plus, it catches one's eye with its metal-made body. We'd describe Apple's phablet as not as flashy as the Note5, but it definitely resides in the same ballpark when it comes to feel and appearance.
In terms of size, the Samsung Galaxy Note5 has the upper hand. It is physically shorter and more narrow despite packing a screen bigger by 0.2 inches. Plus, the iPhone 6s Plus is 0.74 oz (21 grams) heavier, and that's a considerable difference.
One thing we don't quite like about the Galaxy Note5 is that fingerprints stick to its surface easily. In contrast, the iPhone's back is immune to them.

Speaking of fingerprints, both the Samsung Galaxy Note5 and the iPhone 6s Plus come with built-in fingerprint scanners in their home buttons. The scanner's main purpose is to enable secure and hassle-free phone unlocking by replacing the user's PIN, but they also allow payments to be authorized with a simple scan. Both Samsung Pay and Apple Pay are already active at participating locations in select countries.
A perk you'll only get with the Samsung Galaxy Note5 is the S Pen digital stylus, which rests in its dedicated silo. Its function is obvious – to allow users to take down notes and sketches in a natural, intuitive way. You won't get a stylus along with an Apple iPhone 6s Plus, but its lack isn't too big of a deal, in our opinion.
Display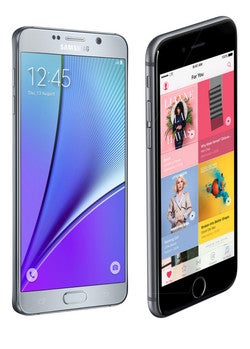 The screens on these two smartphones are more different than it seems. In the left corner, the Samsung Galaxy Note5 has a 5.7-inch Super AMOLED display, while the iPhone 6s Plus in the left corner packs a 5.5-inch IPS LCD screen panel. The Note5's display isn't only bigger. It has the greater resolution and pixel density – 1440 by 2560 pixels (518 ppi) vs 1080 by 1920 for the iPhone (401 ppi). But the difference in pixel count is not that big of a deal, in our opinion. In actuality, both screens deliver plenty of details in their images, and a naked eye will have a hard time discerning the difference in resolution between the two screens.
One of Apple's new trump cards is called 3D Touch. In plain words, it as a technology that allows pressure strength to be detected by the touchscreen, and this has paved the way for new gestures in the iPhone's UI to appear. For example, a light touch on an email in your inbox will let you have a peek at its contents. The same kind of touch will also let you preview images in your gallery, webpages from links, or places in Apple Maps, to give a few examples. The Note5's display isn't quite as advanced and can't sense pressure levels, although you can use the S Pen to preview content in a similar fashion.
Software and functionality
Oh boy, where do we even start? Perhaps we should firstly point out that the iPhone 6s Plus runs iOS 9 – Apple's own mobile operating system. The Samsung Galaxy Note5 comes with Android 5.1 out of the box, which is a different OS and its own distinct ecosystem.
Apple's iOS is known for its simplicity and ease of use. Instead of cramming its software with all kinds of bells and whistles, Apple focuses on implementing features that matter and improve the user experience. In iOS 9, for example, users will get to enjoy a much improved Siri experience with always-on functionality, transit directions in Apple Maps, the freshly added News app and the overhauled Notes app, a keyboard with a handy trackpad functionality, and a lot more. In addition, the iOS portfolio of software holds a rich selection of quality apps and games. And since Apple has tight control over the software running on its hardware, performance and reliability are top notch.
TouchWiz – Samsung's custom interface that we find pre-installed on the Galaxy Note5 – also tries to stick to the "less is more" principle. Still, the software is infused with features that leverage the S Pen. For example, notes can be taken quickly by simply pulling the stylus and writing straight on the lock screen. You can write notes not only in your virtual textpad, but also on UI screensots, on images, even on PDF documents. In terms of apps, Android definitely has the quantity part of the equation covered, although the quality of some could be a bit lacking.
Processor and memory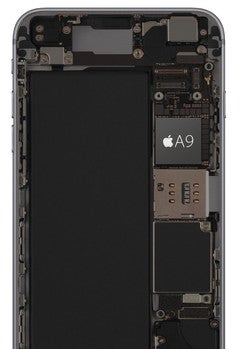 As if the iPhone 6s Plus and Samsung Galaxy Note5 weren't different enough, they're powered by two very distinct processors. Inside the new iPhone model ticks an A9 chip, designed by Apple itself. Built right into it is an M9 co-processor, which is a low-powered piece of silicon that communicates with the phone's sensors. Further technical details have not been disclosed, but it is speculated that the A9 SoC is comrised of a quad-core CPU where two cores run at up to 1.7GHz and two 1.2GHz cores take care of less demanding tasks.
On paper, the Samsung Galaxy Note5 sounds much more impressive, touting an Exynos 7420 octa-core chip. Four Cortex A57 cores inside it run at up to 2.1GHz, and four more power-efficient A53 cores are clocked at up to 1.5GHz. Also, 4GB of RAM have been thrown in for good measure. To no surprise, the Samsung Galaxy Note5 performs well in performance benchmarks and gets our thumbs up in real-world use. The iPhone 6s Plus, however, is not going to disappoint in this respect either, or at least we're not expecting it to. And we don't have a reason to as Apple has always done a great job at ensuring the fluid performance and responsiveness of its handsets.
Point goes to Samsung for offering a base Galaxy Note5 with 32GB of on-board storage, while a base iPhone 6s Plus has just 16 gigs to offer. However, the iPhone 6s Plus can be bought with up to 128GB of storage capacity, while the Note5 can be had with no more than 64GB of storage. Neither of the two supports storage expansion via memory cards of any kind.
Camera
No smartphone can be considered a true high-end device if it isn't outfitted with a great camera. Apple is ticking the right checkmarks with a 12MP iSight camera with a Dual Tone LED flash and, at least in the iPhone 6s Plus' case, optical image stabilization. Since traditionally, Apple's smartphones have been great performers in the camera department, the expectations for the newest model are set high. Only an in-depth specs comparison will show if the new iSight camera brings it on, but looking at the first photo samples, we're lead to believe that it is really, really good.
As for the Samsung Galaxy Note5, we've had the chance to test its camera already, and we can confirm that it is an excellent one. Specs-wise, it has 16MP of resolution to work with and OIS to keep the frame steady. In all likeliness, the quality of the produced images will be comparable to what the iPhone can capture. An advantage for the Note5, however, is the more sophisticated interface, allowing photography enthusiasts to take full manual control over the image. In contrast, the iPhone's camera app keeps things as simple and user-friendly as possible. Another strength is the Note5 camera's F1.9 aperture (vs F2.2 for the iPhone), which could translate to better low-light photography.
Expectations
We really don't want to be in the shoes of someone picking between one of these two smartphones. Judging by what we've seen so far, we can safely say that both the iPhone 6s Plus and the Samsung Galaxy Note5 are great high-end phones. And they have a lot to justify their price tags with - they are good-looking on the outside and pack tons of technology on the inside. At the end of the day, it is up to you to pick a favorite. If you're into shiny, flashy looks, if you're experienced with the Android operating system, and if you find the S Pen stylus kind of cool, give the Samsung Galaxy Note5 a try. And if you'd rather go with something that's less sophisticated, but user-friendly, reliable, with tons of great apps to choose from, or if you're simply drawn by that sexy pink color, mark September 25 in your calendars as that's when the iPhone 6s Plus is due to launch.