iPhone 6 Touch ID sensor pics leak
40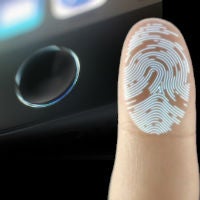 We have seen enough leaks so far that we essentially know exactly what to expect from the outside of the next generation Apple iPhone, which means now we're getting into the realm of the internals. And, with that in mind, were getting the first leaked images of what could be the Touch ID sensor component of the iPhone 6.
The images come from
ASCII.jp
, and shows what is almost certainly a Touch ID sensor. The component looks almost identical to the one found in the iPhone 5s, except for a small difference in the connector cable. It's impossible to confirm if this is real though. And, if it is real, there's no way to know if anything has substantially changed about the component and how it functions. No doubt, Apple is trying to make the sensor faster and more accurate, but we don't know if that really needs new hardware, or just more software fixes like the ones we've already seen.
We do know that Touch ID will be able to
do more
for users in iOS 8 as Apple slowly expands the functionality. Another interesting note from this week is that Apple tried and
failed to get a trademark
on the name Touch ID from the USPTO. That won't stop Apple from using the name, but at least it's nice to see that the USPTO does recognize generic names when it sees them.