iPhone 5S and iPhone 5C: side-by-side along with the screen, the camera and other
39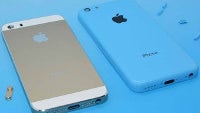 We'vedefinitely been seeing a lot of Apple lately. Perhaps some ofyou, much like us, can't wait for theday that will have the allegedly upcoming announcement finallydone and over with, so that we can see whether we've been right orwrong all along. But it is not this day.
Ifyou've been following this whole thing since the beginning, youprobably know that while abundant, mostleaks have constituted tiny bits of information on the upcomingiPhone 5S and budget iPhone 5C in the form of images, mostly. You'llalso, therefore, know that it is rare that we get a somewhat morerobust view that connects all the pieces of what's to come, but today– we do. While these new snaps will still leave someblank spots, a littleimagination should help scale the gaps.
Courtesy of Appleinsider Sonny Dickson, the source is, supposedly, somewhere alongApple's supply chain. The new shots include a high-res peek at notjust the exterior shell, but also the screen, front and rear cameras,vibration motors, audio jacks along with the SIM trays, and more. Oras Dickson puts it – pretty much everything bar the logic board.
source: SonnyDickson