iPhone 5 redesign apparently won't extend to SIM card tray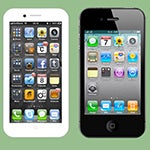 What you see here is purported to be the SIM card tray for the iPhone 5. Hardly the sexiest part of a phone, but it's remarkable in how similar it is to the current iPhone 4S design. In particular, notice that the front of the tray is still flat and metal. If this is legit, it suggests that the iPhone 5 (or perhaps the "new iPhone") won't be as radical of a design overhaul as some people are expecting.
Why? Remember all of those renders of phones with rounded metal backs? Where would a flat SIM card tray fit in? This suggests that the next iPhone will have flat sides (or at least one), rather than a curved unibody backplate. And that means the front and back will most likely be flat as well (whether the back would be made of glass is still anyone's guess).
Perhaps the new iPhone will be a somewhat larger and
thinner device
that otherwise maintains the same aesthetics in the popular iPhone 4/4S phones? Or perhaps it won't even be much bigger, but sport the taller aspect ratio screen that
was hypothesized
a little while back? Slap the iPhone 4S parts on that and it wouldn't be a bad looking phone.
Clearly all of these inferences hinge on whether the leaked part is legitimate – and that's something we can't know with any certainty. But it does lead to a jumping off point for discussion: Are you ok with a minimal redesign of the next iPhone's appearance, or are you hoping for something more radical?
Sound off in the comments section below!
source:
SW-Box
via
geek.com