iPhone 5 - is it worth upgrading?
77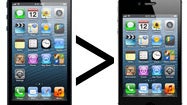 Now that the
iPhone 5
is official, many iPhone 4S owners will have troubles sleeping at night as they will be wondering whether upgrading to the latest model is worth it. After all, we can't deny that the smartphone looks awesome on paper and has more than a few features that make it better than its predecessor. But on the other hand, an iPhone is an expensive investment, especially if one has to pay a fee in order to upgrade early. That is why we decided to give these iPhone 4S owners a hand with our post. We have collected all of the iPhone 5 major upgrades in one place and compared them to what the iPhone 4S has to offer. First things first, let us discuss the iPhone 5's design.
Thinner, lighter, made out of glass and aluminum

The iPhone 5
Yes, at 7.6 millimeters, the iPhone 5 is impressively thin, and its weight of 112 grams is also worthy of admirations. But is it really worth upgrading just because it looks and feels slightly different? Well, not really, unless you want to look cool when checking your mail on it at Starbucks. Sure, the iPhone 5 is made out of glass and metal, but so is the iPhone 4S, so you don't necessarily need to get the latest model just because of the redesign.
Bigger, 4-inch screen
For the first time in history, an iPhone is equipped with a display larger than 3.5 inches. The iPhone 5 has a 4-inch screen with resolution of 1136 by 640 pixels, which translates into a pixel density of 326ppi. And the 0.5-inch difference should make a noticeable difference in real life - movies, for example, will look better in widescreen, while a bigger portion of a web page will be rendered while browsing the internet. At the same time, Apple promises that the iPhone 5 will still fit beautifully in your hand, despite the bigger display. Therefore, grabbing the latest iPhone for its larger screen seems justified by the benefits you get from it.
Faster, A6 processor
During the iPhone 5 unveiling, Apple didn't miss the chance to show off its brand new A6 system-on-a-chip. Supposedly, the new silicon has twice the computational power of the A5 chip and has better graphics as well. But in reality, getting an iPhone 5 mainly because of the processor upgrade is recommended mainly if you play games or use applications that can take advantage of the additional performance. Casual users should stick to their iPhone 4S as they are less likely to notice the performance boost provided by the new chip.
8MP main camera, front-facing cam with FaceTime in HD
If you are one of those folks who likes taking tons of photos with your iPhone, then you're probably interested in checking out what the iPhone 5 is capable of capturing with its 8-megapixel camera. Well, to be fair, chances are that photos will look about as good as they do when taken with an iPhone 4S, which is why an upgrade is not worth it just because of the camera. If you would like to have clearer, better-looking FaceTime conversations, however, that upgraded front-facing cam should come in handy.
4G LTE
This one is a no-brainer. If you absolutely need to stay connected to the web even when a Wi-Fi hotspot is not available nearby, then it makes sense switching to the iPhone 5, which supports LTE at up to 100Mbps. That's 100 with two zeros! Yeah, that may be just a theoretical peak, but figures in excess of 10Mpbs are likely to be reached under real life conditions, depending on your carrier.