iOS 7: how does it stack up against Android?
99+

So we've been playing with a beta version of iOS 7 for a while now on our
iPhone 5
. Some things about it we like, while other we aren't really that happy with, as those who have read our
iOS 7 preview
probably know. But now it is time to take a look at Apple's mobile OS from another perspective – how does its latest form fare against the competition? In particular, how does iOS 7 stack up against the latest version of Android? Well, that's what we're here to find out with the help of our iPhone 5 running iOS 7 beta and our Google Nexus 4 with Android 4.2.2 on it.
Lock and home screens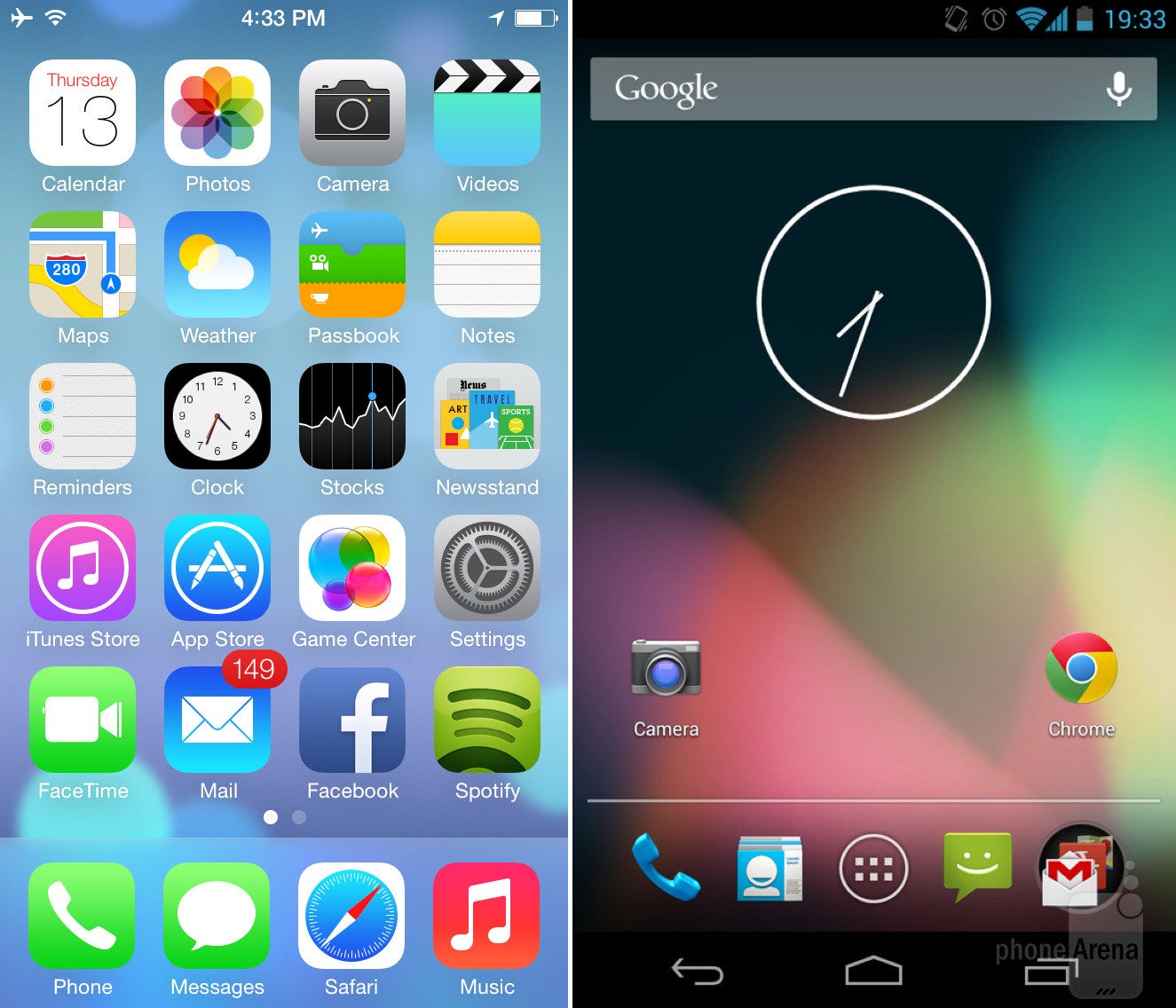 The lock screen (if enabled) is the very first thing a user sees upon turning their smartphone on, which is why its flawless execution is of utmost importance. And it is hard to decide which one we like more – the one on iOS 7 or on Android 4.2, but we're pretty sure they both leave room for improvement. The iOS 7 lock screen is minimalist, providing instant access to the camera, the Control Center, or the pending notifications. However, it would have been better if one could slide either way to unlock it; only a swipe to the right takes you to the home screen. The Android 4.2 lock screen is flexible when it comes to customization, with its widgets and all, and it doesn't matter which way you swipe to unlock it. However, the selection of widgets one can place there isn't as broad as we wish it was. Overall, both lock screens are great, although they could have been better.
On each home screen of an iPhone 5 running iOS 7 there's room for 24 icons total. Interestingly, a stock Android home screen on a Google Nexus 4 leaves room for only 20 app shortcuts even though the smartphone has a larger display with higher resolution. Of course, that's not too big of a deal, especially when both interfaces allow apps to be sorted in folders. The iOS 7 home screen design and layout aren't bad, but perhaps it's all a bit too static, which is why we tend to like Android more for its versatility. It's just that widgets are a pretty cool feature that Apple's mobile OS has yet to adopt in one form or another.
Quick controls and notifications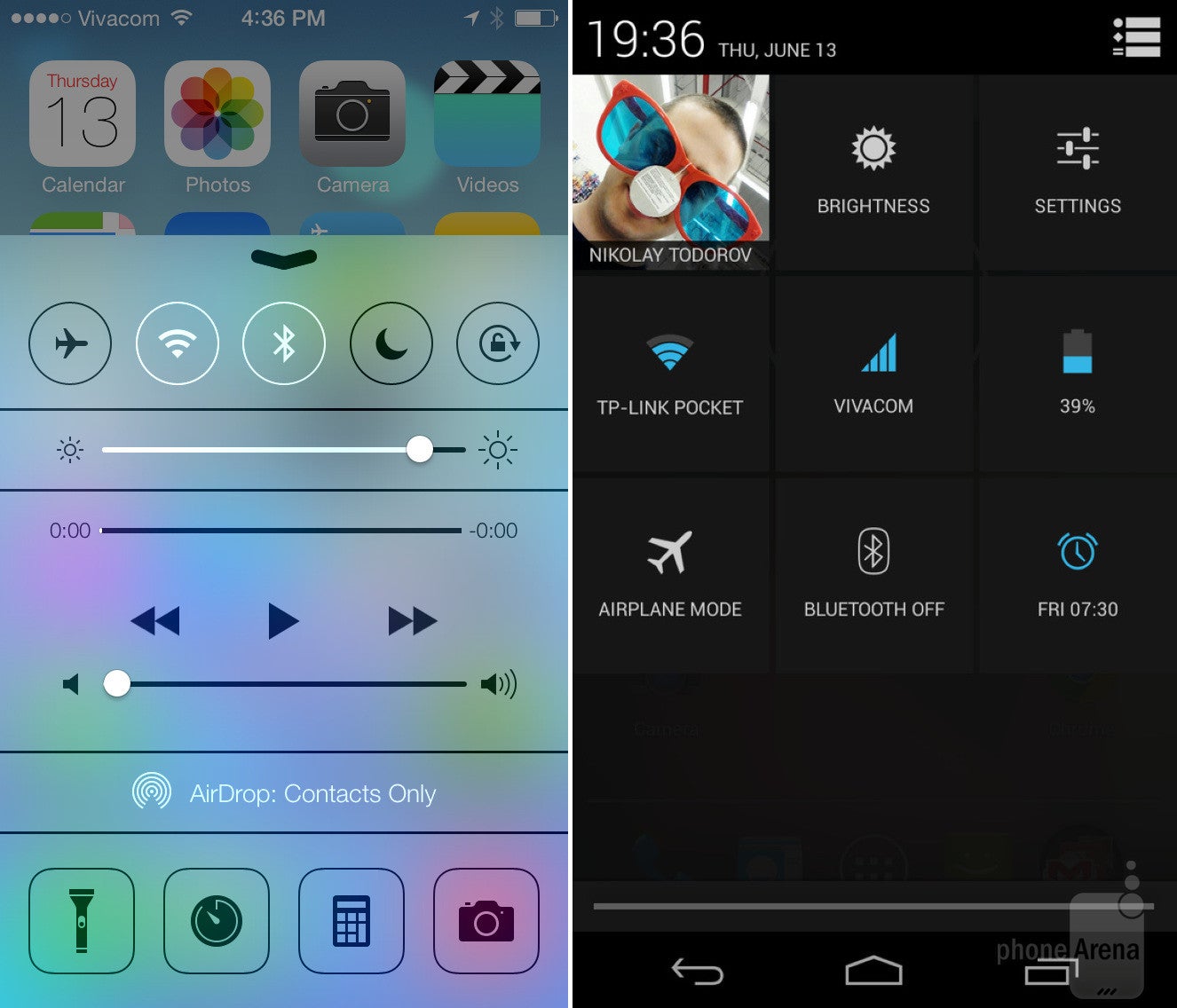 Control Center adds functionality that iOS sorely needed. Simply put, swiping up from the bottom of an iOS 7 home screen brings up a list of toggle buttons for turning things like Wi-Fi and Bluetooth on and off, controlling music playback, adjusting the screen's brightness, even using the camera's LED as a flashlight. Options like these have been available on custom Android UIs for a long time, and the stock Jelly Bean interface has many of them as well out of the box, located in a menu accessible from the notification bar.
Speaking of notifications, the Notification Center in iOS 7 has been overhauled and now takes the user straight to their agenda. That's very convenient for people who actually use the Calendar app. Furthermore, the user is free to pick what notifications are to be displayed there – stocks information, unread email, Game Center alerts, reminders, and more. Android's notification bar is a bit different for it doesn't display much if there aren't any pending notifications. But on the other hand, the user does get updates via Google Now.
Dialer and contacts list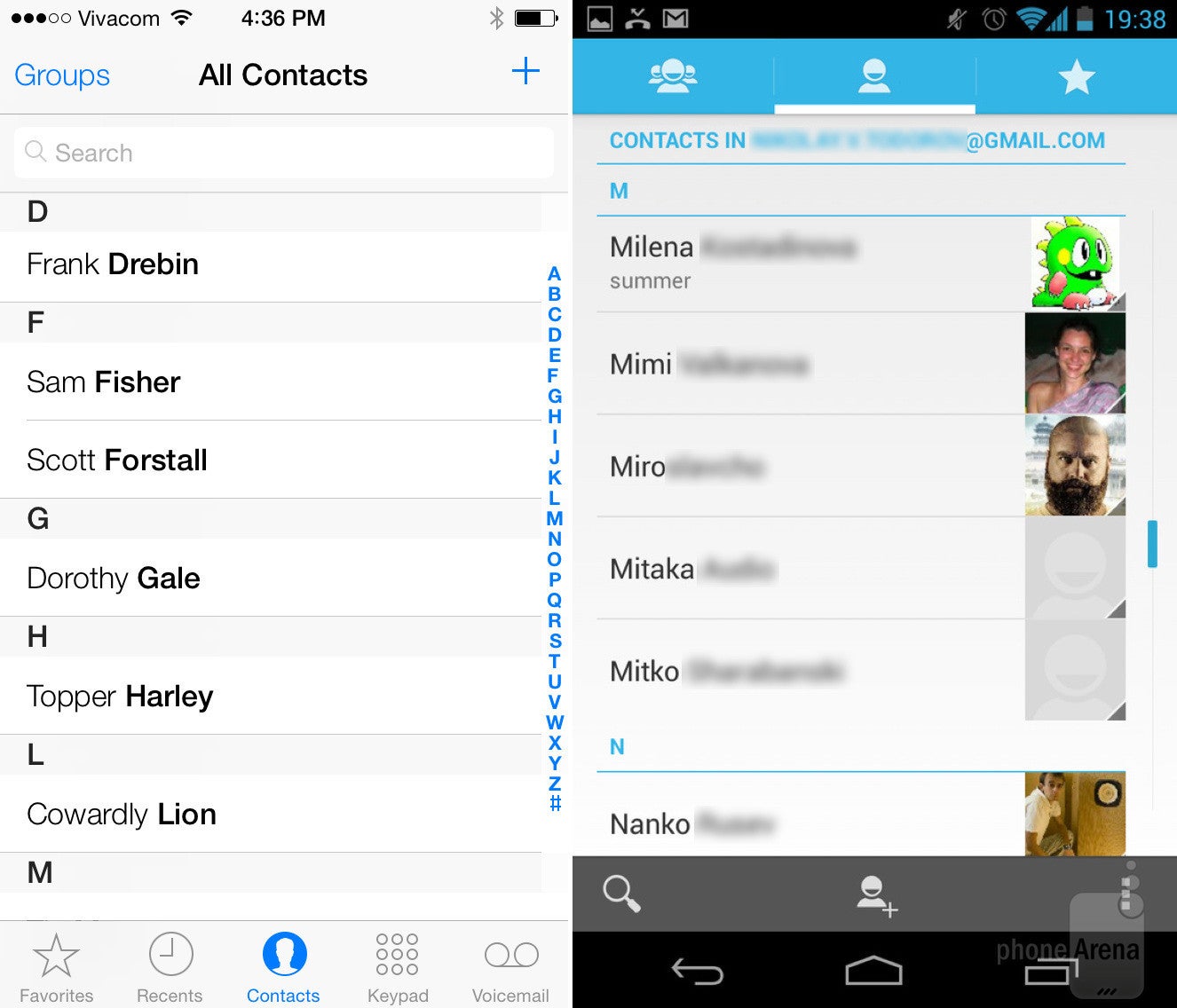 Yup, people still use their phones to talk to people. On iOS 7, the Phone app is pretty much all you need to call someone as it lists your contacts, your recent calls, and your favorites. Of course, a keypad is available as well. Android's Phone app is pretty much the same, but it has one notable advantage over its iOS counterpart, namely that it displays a photo of each contact as you scroll down the list, while the iPhone's contacts app shows a contact's image only if you tap on them to view detailed information.
On-screen keyboard and messaging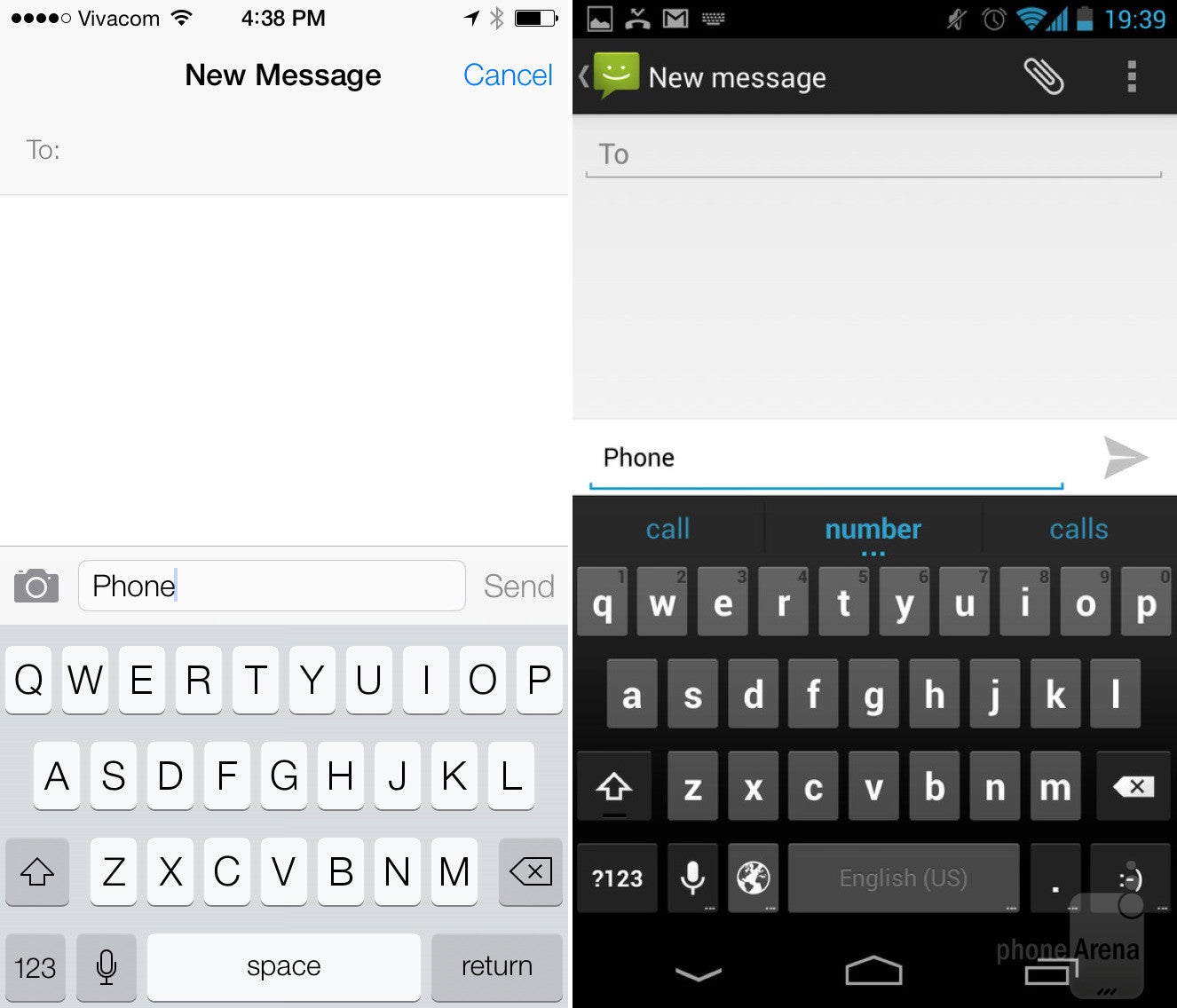 Typing on a mobile device quickly and efficiently is often a matter of getting used to its on-screen keyboard's size and layout. With iOS 7 and the iPhone, in particular, we can easily type texts using a single thumb because the phone's width is optimal for the purpose. The Google Nexus 4, running Android 4.2, is wider and is therefore more comfortable to use with two thumbs rather than one. Overall, both virtual keyboards are pretty nice. Perhaps Android has a slight advantage in this category with its dedicated smiley key and the option to enter text using the swiping method.
But when it comes to messaging, iOS has a significant advantage over Android with its iMessage system, which automatically routs texts over the web instead of eating up the user's monthly SMS allowance. Not that Android's Hangouts is a bad solution, but it would have been more convenient if the Android messaging features were unified in a single app.
Multitasking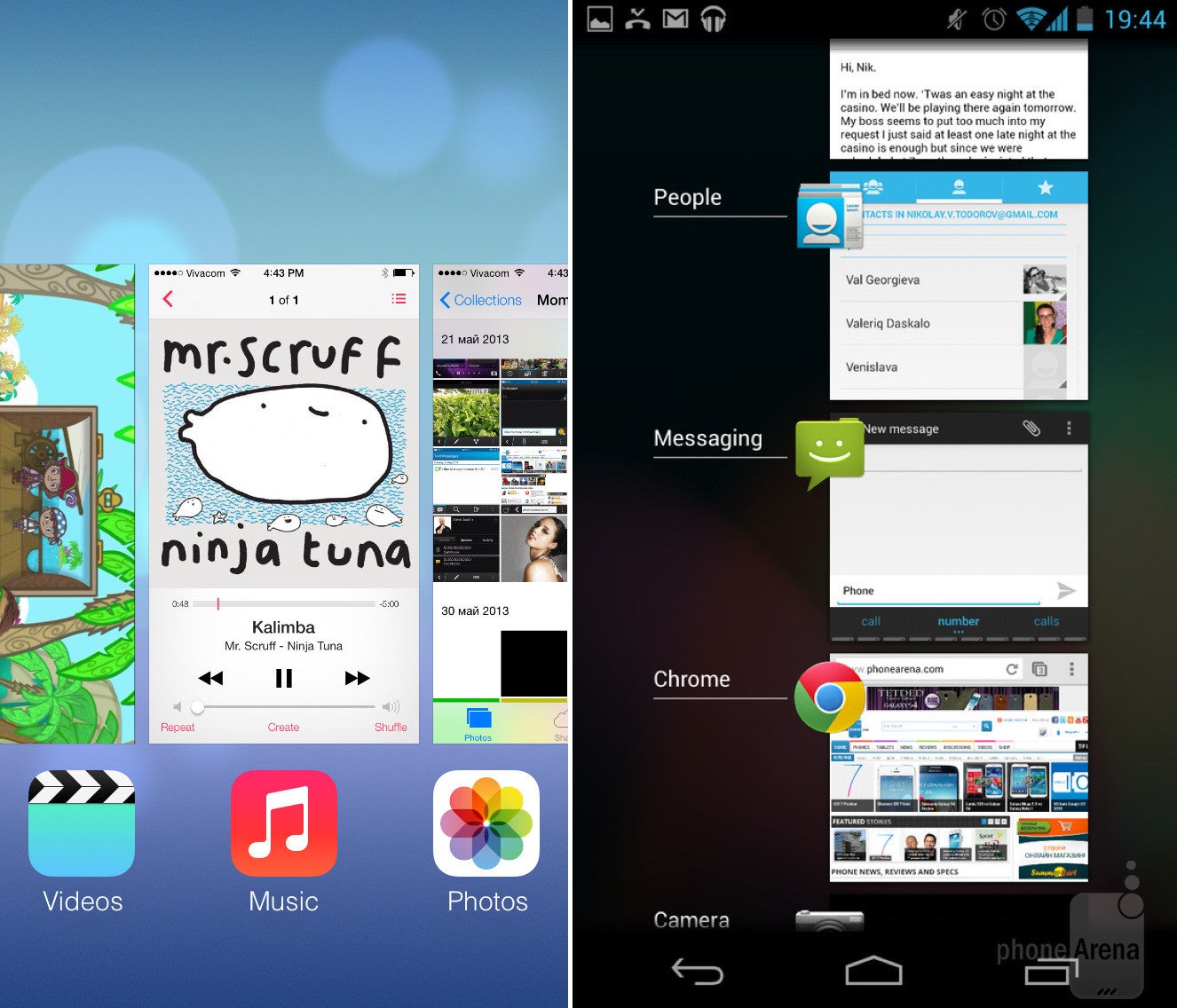 Well, we have nothing to complain about really when it comes to both platforms' implementation of multitasking. Switching between apps on both iOS 7 and Android 4.2 is pretty straightforward. Apple's mobile OS now provides app preview windows, unlike in previous version where the apps were listed only with their icon. Multitasking on Android is also executed well, with recent apps listed vertically along with a screenshot of their last state.
Customization features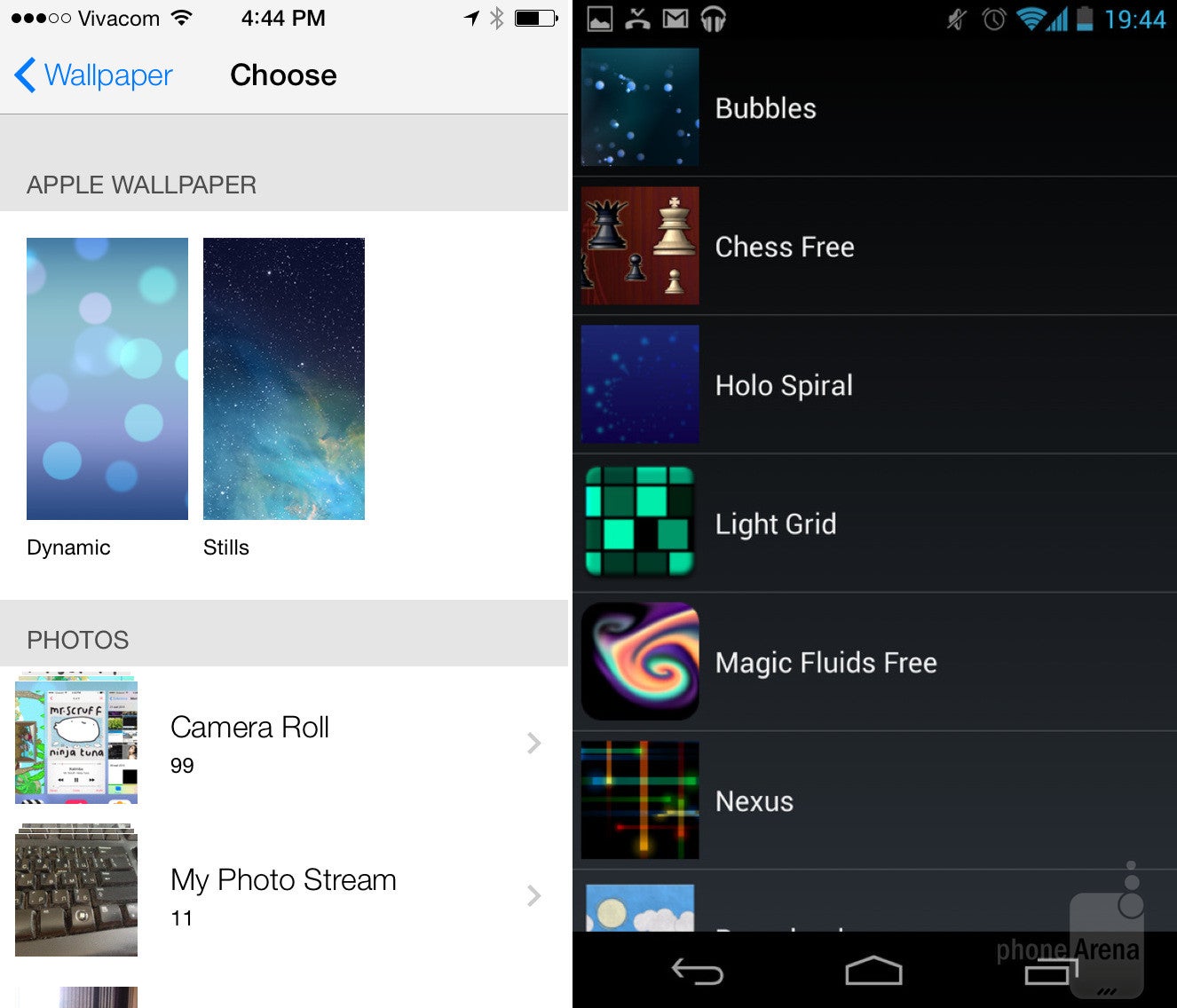 When it comes to customization, Android is still king with its widgets, live wallpapers, and custom launchers. However, Apple has done some progress in that aspect. The latest version of the platform features the so-called dynamic wallpapers (yup, they are just like Android's live wallpapers) – these can be set on both the home and the lock screens.