iOS 5 Beta 5 rolled out to developers
4
iOS 5 beta 5 is here
– but what does it bring except for the beautiful harmony of fives? Don't get too excited it's mostly bug fixes rather than new features, but it's a needed step towards the final version. Developers can now test the release via an OTA update, after a simple check in Settings → General → Software Updates. The update should take some 10 minutes to download and the list of new features and fixes includes iCloud, Calendar and the Camera app.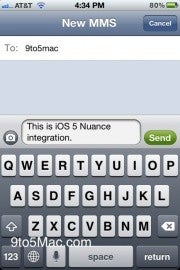 Image courtesy of 9to5Mac
A new feature called "Assistant" is one of the most notable additions as the service is expected to combine the device's processing power with the cloud for
speech recognition
. It's not yet completely ready, though – Apple is still waiting to negotiate it with Nuance
In addition,
iCloud
might be able to support multiple accounts, but the cloud service also allows you to log in with any Apple ID email. The Find My iPhone feature now works and you can actually find your phone right after the setup. You shouldn't forget, though, that during beta testing all information stored on iCloud may be erased by Apple, so it's a good idea to hold on transferring your sensitive information.
Just as in the previous beta 4,
wireless syncing
now works on both Windows and Mac, and has some of its shortcomings fixed. AirPlay has also changed in a way that all of you videos are now AirPlay-able by default. Have you already tried the new beta? Feel free to share your impressions in the comments below.