Huawei Mate Xs: hands-on with the futuristic 5G foldable
11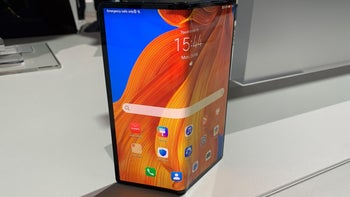 Exactly one year after unveiling its first ever foldable smartphone, Huawei is back with an updated version dubbed the Mate Xs (pronounced 'excess' rather than 'ten s') which introduces a series of hardware revisions to ensure a better experience.
Luckily for us, we had the chance to go hands-on with the futuristic product earlier today. Here are our initial impressions of the next-gen foldable.
The crease is less noticeable this time around
The Huawei Mate Xs features a massive tablet-like 8-inch AMOLED display with almost zero interruptions. There is a slight crease in the middle, as shown in some of the hands-on photos below, but it's really only visible in certain lighting.
The area of display in question feels a little raised if you run your finger over it. Fortunately, this doesn't seem to impact the experience and is much less noticeable than on last year's equivalent.
Hopefully that's because flexible screen technology has matured significantly in the past twelve months and not because these prototypes have only just rolled off the production line. Either way, it won't be too long before we know what the controversial crease looks like on retail units.
The Huawei Mate Xs will be launched in Europe and Asia at some point this spring with an extremely high €2,499 price tag attached. That's significantly pricier than the Galaxy Fold and €200 more than last year's Mate X.
Huawei didn't explain the price hike, but it likely has something to do with the fact it sold the original Mate X to retailers at a small loss last year.
The refined hinge isn't very reassuring

Huawei's newest foldable device arguably does a better job of blending the smartphone and tablet experiences from the perspective of functionality than Samsung's Galaxy Fold. The larger 8-inch display provides a more immersive experience and the 6.6-inch and 6.4-inch folded screens are considerably more practical.

The Chinese giant has done a pretty good job on the software side of things too, it seems. During the short time we played with the device, the Android 10 and EMUI 10 animations seemed pretty smooth and apps quickly adapted to how the Huawei Mate Xs was being used.

Huawei also introduced an improved multitasking interface that allows users to have two apps such as Browser and Mail, open side-by-side and a third one loaded up in a floating window. It is worth pointing out, however, that the smartphone doesn't have access to Play Store or any Google services.




The new smartphone instead relies on Huawei's App Gallery app store, which continues to steadily grow in size but still lacks key apps such as Instagram, WhatsApp, and YouTube.




There are some other downsides to the Huawei Mate Xs too. Although the 6.6-inch display is more practical than the Galaxy Fold's tiny 4.6-inch screen, having a flat edge on one side and a curved edge on the other feels quite weird – it's similar to the Galaxy Note Edge from way back in 2014.

The most worrying feature is the hinge, though. Huawei has made some important improvements to the mechanism this year but folding the display is still far from smooth. It doesn't feel very sturdy either, which raises some serious long-term durability questions, but Huawei says the hinge comes with a 2-year warranty.
What else does the Huawei Mate Xs offer?
Considering the product's ridiculously high price tag, it won't come as a surprise to hear the Huawei Mate Xs is crammed full of some of the latest mobile technology. Leading the way is the custom Kirin 990 5G chipset which boosts CPU, GPU, and NPU performance by an impressive 23%, 39%, and 460% respectively when compared to the original Mate X's Kirin 980 alternative.
Huawei was also keen to point out its impressive in-house 5G modem, which supports 88% faster download links and 36% faster uplinks than the Galaxy Fold 5G.
These upgrades are combined with some serious efficiency advancements that extend battery life by 21% to 7.5 hours on a single charge, although results will likely vary by use case so take that number with a pinch of salt. This is combined with the company's outstanding 55W fast charging technology, allowing the 4,500mAh battery to be charged to 85% in just 30 minutes.
Wireless charging and reverse wireless charging have become standard across Huawei's recent premium devices. Support has been skipped on this product, however, likely because of compatibility issues with the flexible display hardware.
The Huawei Mate Xs package is completed by a quad-camera setup on the back which houses a 40-megapixel main sensor, an 8-megapixel telephoto shooter, a 16-megapixel ultra-wide-angle alternative, and a Time-of-Flight sensor for accurate portrait photography.
Last on the list of specifications is 512GB of non-expandable internal storage and 8GB of RAM. The latter is a decent amount but we would have expected at least 12GB considering the aforementioned price tag.