Google Play can now let you know if an app isn't performing well so that you can skip it
1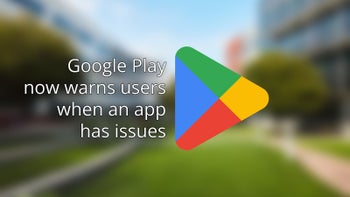 Okay, stop me if you can't relate to this one: you are bored. You open Google Play and start browsing games. You find a timekiller worth your time, but it's from 2012, while you are rocking the
Galaxy S23 Ultra
— or another brand new unit from the
Best Android Phones
around. You download the game, as the reviews are pretty much
glowing
, but the app barely works on your smartphone. What gives?
Many of us — and I'm more inclined to say "
most
" there, as this extends beyond games to apps and utilities too — have experienced this, so it would be super-helpful if there was
some sort
of feature to warn us ahead of time. Well,
Google
has now introduced exactly this type of feature!
Increasing amounts of users on a global level are shouting out Google Play for saving them some sweet megabytes and priceless time with a warning. It basically lets them know if an app is expected to run properly or not. The warning is related to data from "users on a similar device", which helps out a ton.
Some users are reporting that Google Play is telling them that "recent data from similar devices indicators that this app may stop working on your device."

I haven't seen this before, so I think it could be relatively new.

Screenshot credits: Felixlix45 on Telegram pic.twitter.com/fdGW96xyCf

— Mishaal Rahman (@MishaalRahman) March 2, 2023
As we all know, app-related issues can stem from a myriad of reasons. Ranging from screen resolution, hardware and extending to
Android
version. But the way the warning is set-up feels authentic, as reportedly the data is sourced from smartphones, which are comparatively similar to the one that the user in question has. Google Play may very well be scanning for details just as the ones above, as only limiting things to phone models would be quite… well,
limiting
.
This feature is part of a plan from the Big G that was presented last year. Google Play is reportedly set to gauge app performance up to a threshold of 8% per a specific configuration. In simpler terms: if an app starts misbehaving for 8% (or more) of users with a similar configuration, the warning will pop up for those who are looking at it from a smartphone with hardware of the same caliber.
The feature has another side too: it's a healthy form of public shaming, as the developers have access to the data described above. As such, if they start getting feedback from users from a given hardware group, they can make an informed decision about dedicating resources to fix the issues.
In review, Google Play's app performance warning prevents users from becoming disappointed, while providing info about specific user groups to developers. This is a great step forward towards clarity on the Play Store, so we can't wait for a wider rollout.