Google might soon improve Android's built-in screen recorder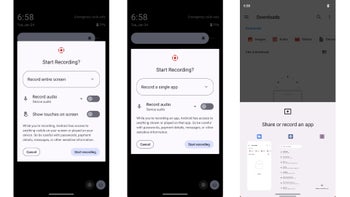 The screen recorder that comes with Android might soon be getting new functionalities to make it more versatile than before. At least that is what
Mishaal Rahman's recent discovery
is pointing at, as it seems
Google
might soon introduce "partial screen sharing" to
Android 13
.
This new feature would allow users to isolate their screen recording to only a specific application rather than the whole screen. Partial screen sharing is yet to be rolled out, but Mr. Rahman was able to activate it and share screenshots of the way it could work. Take a look for yourself:
As you can see from these images, the user would have the option to change between two modes — sharing the whole display or a specific app — selectable via a dropdown menu. If the option for sharing just one app is chosen, the UI then takes you to a pop-up menu where you can select from recently opened applications.
Selecting one of the thumbnails then takes users to the corresponding app and begins the screen recording. As shown in another of the screenshots, it is visible users would also get to choose if they want to record audio and show each touch on the screen during the process.
Mishaal Rahman also points out the two options to either share or record, linking it to an earlier announcement by Google in August 2022, where the company announced a feature that would allow you to stream messaging apps to Chromebooks. That is just a guess for now, though, so we can't be sure what the "share" stands for here.
Thankfully, we might not have to wait too long to find out, as the probability of this feature being rolled out with the March 2023 Pixel Feature Drop is somewhat high, given that it basically looks finished at this point. That being said, it could look different once it is officially out.