Chrome 93 rolls out to Android and iOS; brings slightly darker 'Dark mode' for Android and other features
1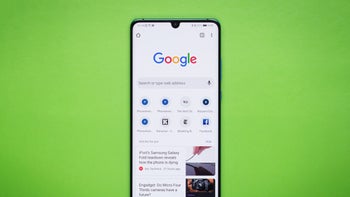 Google
has started quietly rolling out the newest version of Chrome to Android, iOS, and desktop,
reports 9to5Google
. The new version comes dubbed Chrome 93, after Chrome 92 was released a month ago, bringing site safety controls so you can easily track website permissions. The new version brings minor, but notable changes.
Chrome 93 is now rolling out to Android, iOS, and desktop
This update is a bit smaller than the Chrome 92 update that was rolled out towards the end of July. Let's check out what are the new features and improvements it brings to the browser experience.
First off, the update brings a slightly
darker dark mode to Android devices
, as pointed out by 9to5Google. It will now be a bit darker shade of gray. You can notice the slight change mainly in the app and system status bars, as well as in the Tab Switcher grid and settings (although the change there isn't as noticeable on screenshots, compared to on-device viewing).
This shade is darker than the previous gray hue with bluish undertones, and is way closer to black. Google has also slightly changed the Omnibox's color, as well as the with the overflow (three dot) menu and gesture bar.

As we reported earlier, the browser is expected to get some Material You-inspired updates as well with Android 12.

For iOS, Chrome 93 brings a new, more compact context menu for when you hold down on links and images. Additionally, some Google Account-related changes are found as well. The first one of them is that if you're already signed in to a Google Account on your device, you can now sign-in more easily to Chrome and other Google services on the web. And the second change allows signed-in users to use and save payment methods from their Google Account, without sync.
The other updates the Chrome 93 version brings are mainly for the desktop experience, where the Recently Closed menu gets a slight change, allowing you to view all recently closed sites in a collection and restore them individually. The lock icon in front of URLs is also replaced with an inverted chevron icon on desktop.
The previous version brought useful security and permissions features
As we mentioned earlier, the
previous Chrome version
that rolled out towards the end of July brought important security features and useful permission tracking. The most important one of them was regarding site safety and the management of permissions granted to websites.
You can access the feature when tapping on the lock icon to the left of the address bar, and Chrome will show you all the permissions you have given to the website in question. Keep in mind this feature is currently available only for Chrome for Android and Android-powered tablets, and not for iPhones. This feature lets you easily toggle microphone, location, camera, and other permissions for the specific site you're on.
This version has also brought support for additional Chrome Actions to help you make the most of the updated permissions support. This addition makes accessing security and privacy features way easier, as well as the possibility to type in the address bar keywords that will allow you to search for specific settings in the app.
A previously reported change of Chrome for Android has gotten
some elements of the Material You design language
that is the major redesign coming with
Android 12
, when it lands soon. Namely, an update has introduced a revamped look to the bookmarks and downloads interface on Chrome for Android in preparation for the big Android 12 operating system official launch. Chrome for Android and Gboard have already received some elements of the new design, such as support for dynamic themes.