Gmail for Android gets search filters with new update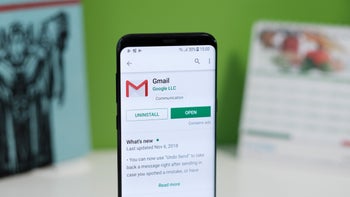 Google
has been working on bringing a lot of improvements to its Android apps in time for
Android 12
, and now a new Gmail update is bound to make people's lives easier.
TechRadar reports
a new Gmail update will bring search filters for the inbox which will make searching in your mails way easier.
Gmail for Android gets search filters with a new update
Before this update, searching through your inbox in the Gmail app for Android took a lot of time, mainly because of the lack of any filters. In the desktop version, you still had the possibility to filter by the recipient, subject, keywords, email size, and date, which made searching quite easier. The cool thing is that now Google is updating the desktop version as well, adding more enhanced ways to search.
On Android, Gmail users will now be able to use filters with the search results to find specific emails and information. The new filters can be used independently or after the search is complete, as they appear as drop-down lists. The update is currently rolling out. Once you get it, you will see buttons for the following filters: "From", "Sent to", "Date", and "Attachments", after entering a search term.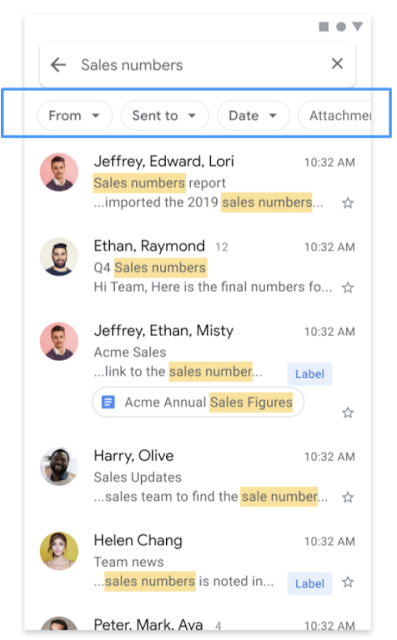 On top of that, when searching for emails from a specific sender, you will be able to choose from a list of suggested people or search for emails from multiple senders at the same time.
On desktop, the new update will bring more enhanced search options that appear as buttons under the search bar for "From", "Any time", "Has attachment", "To", and "Is unread". For example, when you click on the "From" option, you will be able to quickly type a name, choose from a list of suggested people, or search for emails from multiple senders. You will also have a tab next to these search filters that would allow you to search for the same information in Google Chat.
Other Gmail updates and improvements that Gmail users will get to enjoy
Well, most of the recent updates we have reported on are related to the upcoming OS update, Android 12, so some of these features will remain reserved for people who are able to upgrade to the Android 12 OS when it is publicly released.
First off, Gmail has recently gotten a redesign that will match
Android 12's Material You look
. This design features softer colors, Dynamic Color which allows your app to match the predominant colors of the wallpaper you have chosen. The app will be getting more rounded corners to cards and buttons in time for Android 12.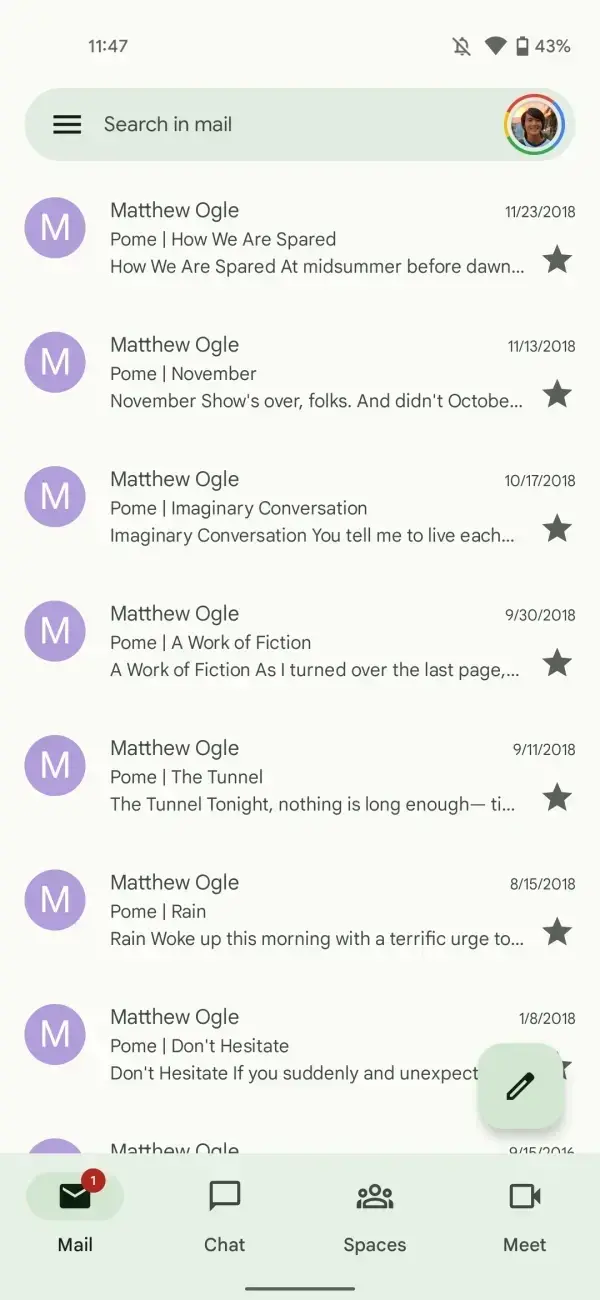 Gmail with Material You on Android 12
Recently we reported that free
Gmail users will be getting access to Google Workspace tools and Google Chat
, something that's not related to Android 12, but to the way Google has decided to manage subscriptions to its services.
Google Workspace is usually a paid subscription, but now, even using a free Gmail account, you will be able to get access to direct messages and chat rooms via Google Chat. This update will also rename the Google Rooms feature to Spaces. The new Spaces app will include more emoji reactions, user roles, moderation tools, and others.
Android 12 is coming: what will it bring to the table?
The Android 12's official stable release is expected to happen sometime
in October, at least for Pixel phones
, and a wider rollout will be happening around that time as well, for phones that support it. The main point of the Android 12 update is the Material You redesign. It features dynamically adaptable colors to match your wallpaper choice, visually pleasing icons with rounded corners, and an overall more consistent system-wide look.
On top of that, the OS update will bring a variety of other useful features, among which are more privacy-focused controls. For example, Android 12 will bring a privacy dashboard, that will let you check out which apps use your information and when, and the possibility to choose to give an app your approximate location, instead of your exact one.