BlackBerry KEYone scores official Android Oreo update in Canada, other countries to follow suit soon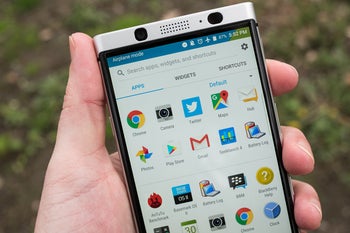 With stable
Android 9 Pie
software already available for
Pixel handsets
and even
one non-Google phone
, the timing is not exactly ideal for a popular 2017 device to receive an official Oreo update. Especially if we're talking about said product's first major OS revision.
That's because the
BlackBerry KEYone
is the first TCL-made device to swap Nougat for Oreo goodies, and the over-the-air rollout is merely underway in Canada today. For what it's worth, both unlocked and
carrier-specific models
up north are scoring Picture-in-Picture functionality, smart text selection, Autofill, background limits and everything else as we speak, with other regions and mobile operators likely to follow suit in the near future.

As always, you're advised to remain patient (as hard as that may be after this excruciating wait) if the update doesn't arrive right away. Typically, these things are rolled out in waves, and in some cases, it can take a few days for an entire country to be serviced.
While waiting (and repeatedly checking the "System Updates" sub-menu after accessing Settings, then System), it would probably be a good idea to free up some storage space. The
KEYone
has plenty of hoarding room, but Android 8.0 Oreo usually takes up over one gigabyte.

In theory, the BlackBerry KEYone should also receive an Android Pie update... someday, but don't hold your breath.