Snazzy BlackBerry KEY2 Red Edition launches in the US at an arguably excessive price
42
We may earn a commission if you make a purchase from the links on this page.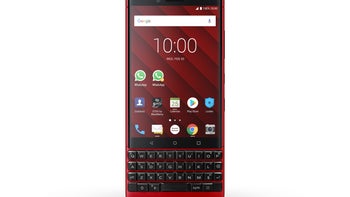 The
"new" BlackBerry device unveiled way back in February
is finally up for grabs stateside for QWERTY nostalgics and fans of fiery red phones. Of course, the BlackBerry KEY2 Red Edition is not an entirely new product... or entirely coated in red.
As the name suggests, the latest TCL-made handset with both a physical keyboard and touchscreen in tow is largely similar to the black and silver variants of the
KEY2
. Under the hood, the only thing that's changed is in fact the amount of internal storage space you get. Specifically, the Red Edition is a more hoarder-friendly device, accommodating 128 gigs of data, up from 64 on the black and silver models.
From a design standpoint, the snazzy red frame (made from a robust Series 7 aluminum alloy) seems to pair quite nicely with the black keys, screen bezels, buttons, ports, and especially the textured "diamond grip" non-slip back (also coated in black) for an undoubtedly elegant and one-of-a-kind look that's bound to make a lasting first impression on people accustomed with the same boring one-color slabs.
Unfortunately, the BlackBerry KEY2 Red Edition is priced at a whopping $699.99 and available only on Amazon at the time of this writing with LTE support for AT&T and T-Mobile. That's $50 higher than the recommended price of the unlocked 64GB KEY2 in its less imaginative color options, which certainly makes sense. But a $700 price tag also makes this significantly costlier than a
OnePlus 6T
and only slightly cheaper than a
Samsung Galaxy S10e
with
vastly inferior specs on deck
.
We're talking a middling Snapdragon 660 processor, 6GB RAM, a pair of largely unimpressive 12MP rear cameras, and outdated Android 8.1 Oreo software still provided out the box. On the bright side, the 3,500 mAh battery is capable of some pretty incredible endurance times, having to handle a relatively small 4.5-inch display with 1620 x 1080 resolution. The security and productivity of the KEY2 is also essentially unrivaled in today's mobile landscape.