Prime Day deals on laptops, MacBook, Chromebooks
We may earn a commission if you make a purchase from the links on this page.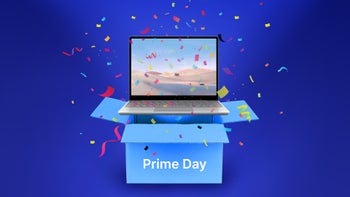 Prime Day may be over, but Black Friday is coming up fast! Follow our deals coverage for the latest sales on top tech products:
Regardless of how you look at it, 2020 has been an unusual year. The COVID-19 pandemic has touched every single aspect of our lives and continues to do so. That's why we didn't have Mobile World Congress or IFA, nor E3 or Gamescom as we did in the previous year. All events moved to the virtual space, and we're not going to talk about how companies had to switch to long-term remote work.
Events like Amazon Prime Day didn't remain unscathed, as the US retailer has been forced to move one of the biggest sales of the year to a different timeframe. If you're reading this, you probably know that Amazon Prime Day takes place between October 13-14. What you don't know is that we plan to cover a lot more products this year, not just phones, tablets, smartwatches, smartwatches, and headphones.
Without further ado, we're happy to bring you some of the best laptop, Chromebooks and MacBook deals on Prime Day. But before that, you should know that in order to take advantage of these deals, you must be an Amazon Prime member.
If you're here for more than just a laptop, Chromebook or MacBook, make sure to check out our
huge Amazon Prime Day deals post
, which will be updated throughout the event with deals on phones, tablets, smartwatches, smart speakers, headphones, and more.
The best laptop sales on Prime Day 2020
A lot of laptop manufacturers are trying to appeal to customers by offering massive discounts on their products. We're going to highlight a couple before Prime Day, but we'll keep updating the list of deals throughout the sale, so make sure to return to this post for fresh new deals every day.
Acer Aspire 1 – a larger laptop that features a 15.6-inch FHD display and an Intel Celeron N4020 chipset. The rest of the laptop's specs include 4GB RAM, 64GB storage, and a decent battery that promises up to 10 hours of autonomy. The Aspire 1 usually sells for $500, but you can save $100 if you buy it right now.
Asus Vivobook 15 – one of the most powerful laptops on the list at the moment. It's a very thin and light laptop that comes with a 15.6-inch FHD display, an AMD Ryzen 3 3200U chipset, 8GB DDR4 RAM, 256GB SSD, and an AMD Radeon Vega 3 graphics card. The Vivobook 15 is getting a 25% discount, which makes it a great deal considering it typically sells for $680.
The Asus ZenBook Pro Duo is one of the most unique laptops on the market. It boats a 15.6-inch 4K display with ridiculously slim bezels and a second ScreenPad Plus display that's positioned above the keyboard. It's almost $650 off right now and it also features an Intel Core i7, 16GB of RAM, and a 1TB SSD among other things.
If you're looking for something a little smaller, this 13-inch Asus ZenBook boasts an Intel Core i5 chip, 8GB of RAM, and a 256GB SSD. There is a $100 discount to be taken advantage of.
The sexy Lenovo ThinkPad Carbon 7th Gen is getting a huge $800 discount during Amazon Prime Day sale.
One other choice is this 15-inch LG Gram laptop, which features a 15.6-inch display, 10th-gen Intel Core i5, 8GB of RAM, and 512GB of SSD storage. The price cut is a little more hefty in this case, with Amazon slashing off $360.
Time to get serious. If you're into gaming, you can find below some great deals on several very powerful gaming laptops from Asus, Lenovo, MSI, and Razer.
Prime Day deals on Microsoft Surface laptops
Microsoft has continued refining its hardware lineup over the years and Surface laptops are now some of the most popular Windows laptops on the market. Below are some of the very best Surface Laptop deals on Prime Day.
Microsoft Surface Laptop 2 – it can be quite powerful depending on what configuration you choose. The one that's on sale right now on Amazon comes with an Intel Core i7 processor, 8GB RAM and 256GB storage. Also, it sports a vibrant 13.5-inch PixelSense display and a battery that should offer up to 14.5 hours of video playback, but a lot less gaming hours. The Surface Laptop 2 is getting a huge $570 discount on Amazon.
Microsoft Surface Laptop 3 – if the second-generation model isn't quite up to your standard, perhaps the Laptop 3 will interest you. It retains everything that made the previous models stand out and the models below pair everything with updated chipsets and a larger 15-inch display. The best part is that you can take advantage of a $200 discount on Prime Day!
Prime Day deals on Apple MacBook
If you're not really a Windows person and in the market for a MacBook, here are some deals that we think are worth a look.
New Apple MacBook Pro – it's one of the largest MacBooks thanks to the 16-inch Retina display. This one is powered by a ninth-generation 8-core Intel Core i9 processor, an AMD Radeon Pro 5500M graphics card, 64GB RAM and 8TB SSD storage. The MacBook Pro 16-inch is $350 off on Amazon right now.
Those of you that don't need quite as much power may prefer this 16-inch MacBook Pro model, which is discounted by $300 on Amazon. It boasts 512GB of storage and an Intel Core i7 processor.
MacBook Pro models are certainly cool, but most people don't need them. The MacBook Air is the people's MacBook and this model with 8GB of RAM and 256GB of storage is $100 cheaper than usual right now!
Discounts on Chromebooks for Prime Day
Chromebooks aren't a Google affair any longer, so if you've been looking for a budget-friendly alternative to Windows laptops that runs Chrome OS, we have some great deals for you, so keep reading.
Samsung Chromebook 3 – it's very compact and features a small 11.6-inch HD WLED display, 4GB RAM, and 32GB storage. Those who decide to go for this one will save $50 right now via Amazon.
Lenovo Chromebook S330 – a bigger Chromebook, the S330 was launched last year and sports a 14-inch IPS display, a MediaTek chipset, 4GB RAM, and 64GB storage. This one is only getting a $50 discount, but it's money that you can spend on something else.
Chromebooks were created by Google and it offers the Pixelbook Go. It's pricier than most other Chromebooks but also $200 cheaper for Prime Day.
Laptop bargains at Best Buy on Prime Day
If you'd rather purchase a laptop from Best Buy, here's a list of some of the best deals running.
Walmart offers on laptops for Prime Day