Best iPad deals on Prime Day 2021
0
We may earn a commission if you make a purchase from the links on this page.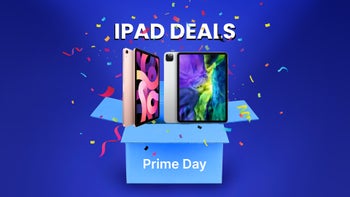 The second day of Amazon's
Prime Day
is here, and, as always, there are tons of discounts, flash deals, and a crazy shopping spree. To add to the frenzy, competing storefronts also hold their own shopping events around Prime Day to keep themselves in the race. With that said, if you've been holding out on buying an iPad, Prime Day is one of the best times in the year to look for one, since this is when most deals are likely to come up.
Amazon Prime Day discounts are only available for Prime members. Check out the following article if you are not sure if
Prime membership is worth it
.
Amazon Prime Day iPad deals
Apple recently announced a
new generation of iPad Pros
, and those are $50-$100 discounted right now for Prime Day (in and out of stock, of course, so keep refreshing) but there are some nice models from 2020 that pop up in some form of a deal or another, see our
iPad buying guide
.
Some words on the iPad Air (2020) - it basically looks the same, with the exception that the Pro has slightly thinner bezels. The
iPad Pro
(2018)'s processor is an Apple A12X Bionic, the iPad Air (2020) has an A14 Bionic. The latter is sli-i-ightly more powerful, but in general — both iPads are on the same level. Here's the catch — the iPad Pro (2018) has a 120 Hz screen and a stronger GPU. If you don't mind refurbished, think about getting an iPad Pro (2018) instead of an iPad Air (2020). You just might grab yourself a steal, too.
Best Buy iPad deals on Prime Day
Best Buy likes to keep its head on the game and is always ready to meet competitors' prices and deal campaign, here are its Amazon Prime Day timeframe deals:
Target iPad deals on Prime Day
Walmart iPad deals on Prime Day
Walmart too likes to throw its hat in the ring around Prime Day times. Right now, Walmart sells the base iPad 32 GB for $30 off, making it a $299 steal. Well... as long as you can work with the limited storage option.