AT&T claims a big nationwide 5G win in anticipation of the iPhone 12 release
0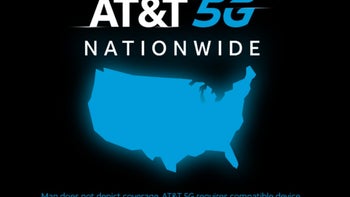 While AT&T is not typically as vocal as T-Mobile in calling out or challenging Verizon's 5G achievements, the third-largest wireless service provider in the US (
as of a couple of months ago
) couldn't allow its long-time arch-rival to seize the industry's spotlight in the wake of Apple's big
iPhone 12
family announcement yesterday.
Although Big Red's CEO shared the stage with Tim Cook himself to confirm the rumored launch of
yet another "nationwide" 5G network
(that doesn't actually cover the entire nation), T-Mobile was quick to
rain on Verizon's parade
, and now AT&T is attempting to do the same while also throwing a jab in Magenta's direction.
Interestingly, Ma Bell may well have the numbers to support its
current market supremacy claims
instead of relying on assumptions about the potential real-world flaws of the DSS technology implemented by Verizon. Unfortunately, the carrier is not ready to make these full numbers public yet, analyzing the latest Ookla Speedtest Intelligence data to conclude
its 5G network
is the nation's fastest... among "nationwide" 5G networks.
In other words, AT&T's median 5G download speeds surpassed those of T-Mobile in Q3 2020, although the gap between the two nationwide networks for this July - September period remains under wraps. Unlike Verizon, which plans to use the aforementioned Dynamic Spectrum Sharing (DSS) method to split existing resources between 4G LTE and 5G customers, both T-Mobile and AT&T allocated dedicated low-band spectrum to achieve nationwide
5G
availability without impacting 4G performance.
Speaking of,
AT&T
apparently managed to win the nation's "overall fastest wireless network" Speedtest title for the seventh consecutive quarter thanks to leveraging its 4G LTE and 5G capabilities better than T-Mobile and Verizon.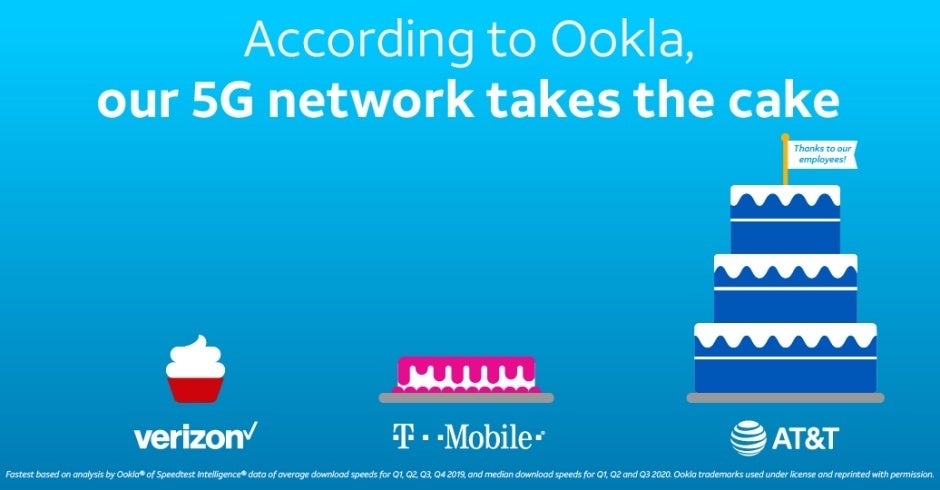 But for the time being, AT&T has no problem rubbing T-Mobile's defeat in by employing a cake metaphor that could come back to bite the wireless service provider in the relatively near future. Until then, you may be interested to know that Ookla also proclaimed Ma Bell as having the "fastest wireless network for iPhones" in Q3, which doesn't necessarily mean the situation will remain unchanged when
Apple's first-ever 5G handsets
actually start selling.