Apple Watch sleep tracking is here! This is how it works
8
We may earn a commission if you make a purchase from the links on this page.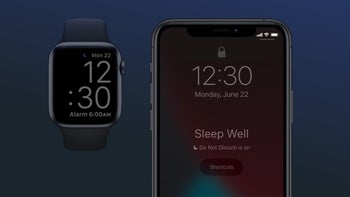 Apple
is now rolling out a watchOS 7 beta software update for the
Apple Watch Series 5
, 4 and 3, that finally introduces sleep tracking functionality. Although the public watchOS 7 version will be made officially available in fall, anyone can use our tutorial on
how to install the watchOS 7 beta
right now.

So how does the new Apple Watch Sleep tracking app look like and how does it work? Let's explore.
Jump right to:
Setting up the new sleep tracking on Apple Watch
As soon as watchOS 7 is installed on your Apple Watch, a new Sleep app icon (shown in the first image below) will appear on your smartwatch homescreen. The same Sleep app will also appear on the Apple Watch iPhone app. Opening the Sleep app on your Apple Watch will first take you through an introductory screen, which explains that Sleep can be used to schedule a wake-up alarm, bedtime and even a bedtime reminder.
Afterwards, the initial set up process begins by setting up a sleeping time goal, which by default starts at the commonly recommended 8 hours. It's widely believed that most healthy adults need at least 7 or 8 hours of sleep in order to feel well rested in the morning.

The first image shows what the new Sleep icon looks like, the next two are its initial greeting screens
The Apple Watch Sleep tracking app will then let you know that it can inform you each morning whether you've had enough sleep or not, which you can skip.
Afterwards, you'll be asked to select the time you normally wake up and the time when you should be going to sleep, for your Sleep schedule. Your Apple Watch can also use haptics and sound to wake you up in the morning, based on those settings, if you're wearing it during sleep.

After finishing this part of the Apple Watch Sleep tracking set up process, you'll be informed that the watch will track whether you're asleep or not via the motions of your arm. If you've taken off your watch, Sleep mode will turn off so it won't wake you up in the morning.

Next, the Sleep app will introduce Wind Down, which will attempt to help you have a relaxing and distraction-free time before sleep. However this can be skipped, as it turns on Do Not Disturb, which not everyone may like. Of course, with Sleep mode also come charging reminders, to make sure you've topped up the battery charge of your Apple Watch enough to last you through the night.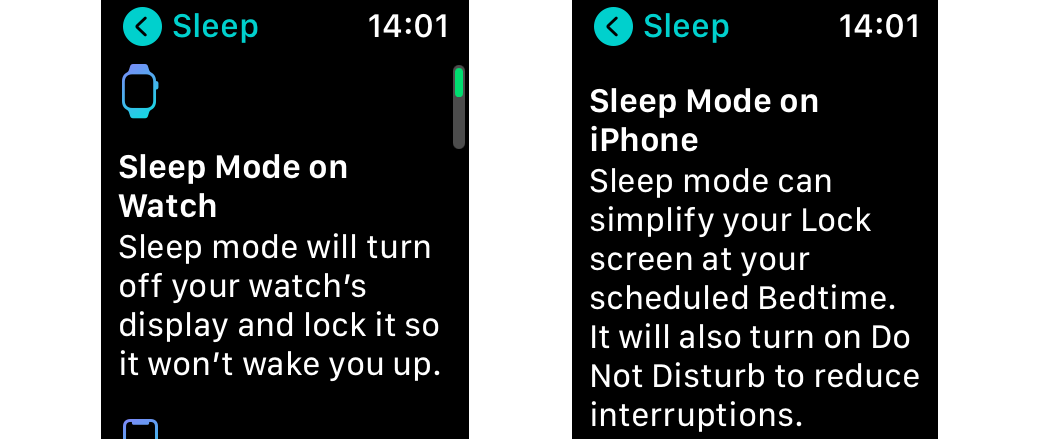 And with that, you have sleep tracking enabled on your Apple Watch. Below are also screenshots of the new Sleep icon on the Apple Watch iPhone app, and its only screen.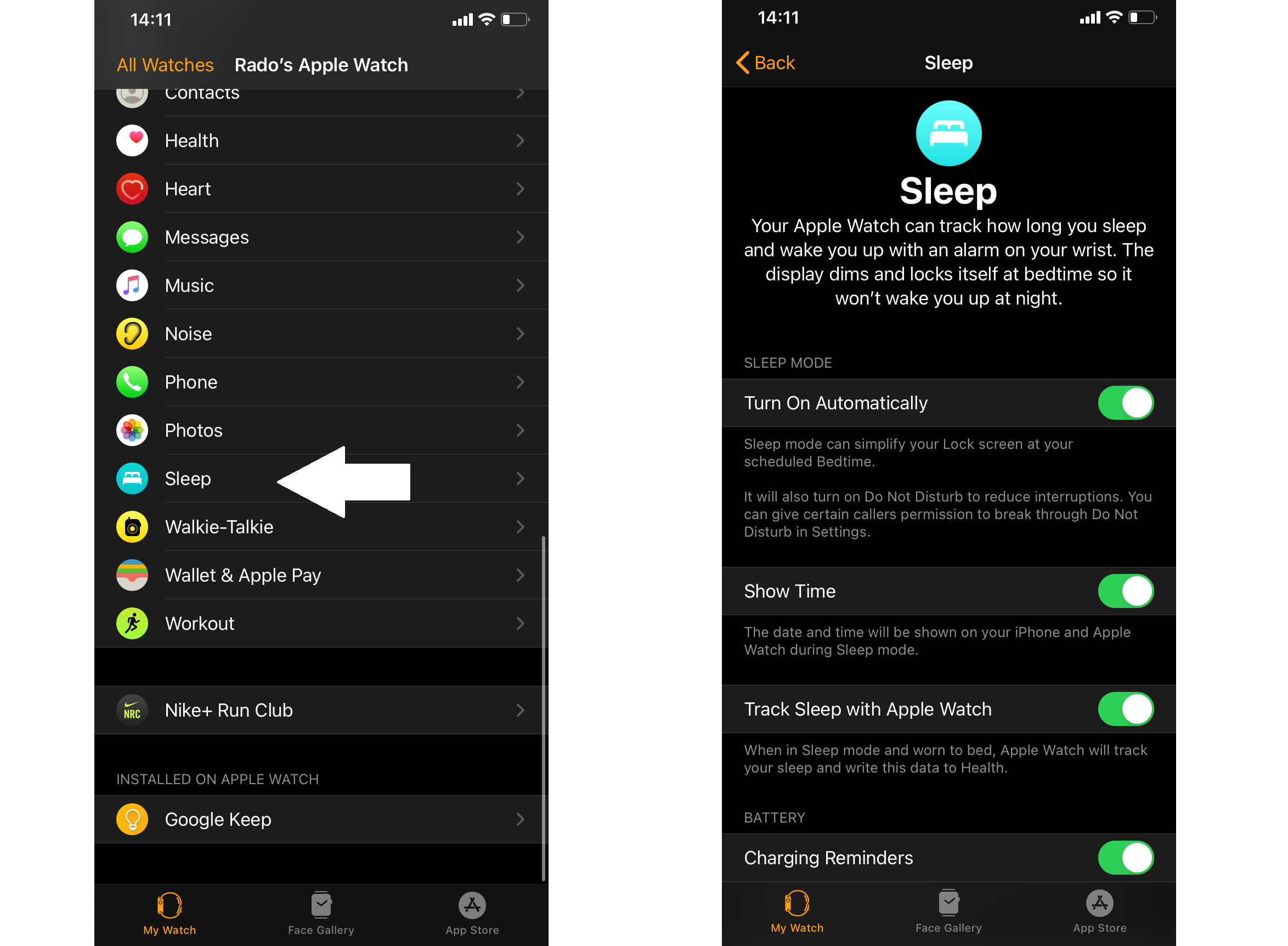 The new Sleep menu that will appear on the Apple Watch iPhone app, along with its only screen
Currently, from your iPhone (running the iOS 14 beta) you can choose whether or not Sleep mode activates automatically and whether the date and time are shown when it's active. Additionally, you can disable or enable your sleep to be tracked and recorded into the Health app, and finally, you can turn off charging reminders for the Apple Watch.
Apple Watch Sleep mode takes action
When the time comes to go to bed, both your Apple Watch and iPhone will enter the aforementioned Sleep mode. The screen of the iPhone gets dimmer, and Do Not Disturb is now enabled, while the Apple Watch's display shuts off entirely so you can have a distraction-free sleep.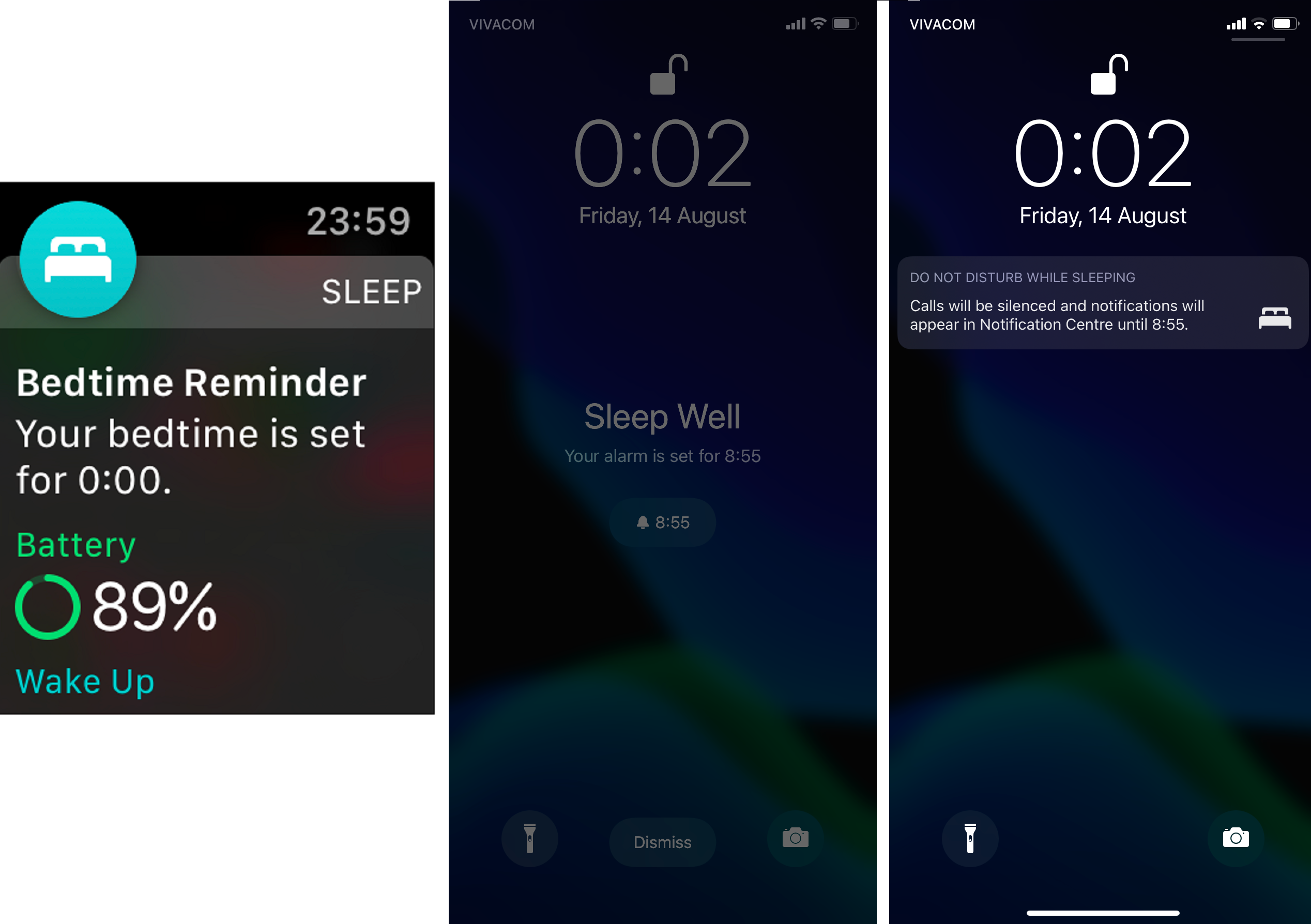 Both the Apple Watch and your iPhone now take more effort to unlock, which is an effective way of discouraging you from reaching for them when you need to be going to sleep. The Apple Watch now takes a press of the crown to wake up, and requires an additional turn of its crown to unlock, as shown below (and yes, it gets very dim).

Apple Watch sleep tracking results, accuracy, impact on battery life
In the morning, I expected to get a brief summary of my sleep, but there was none. As shown in the middle screenshot below, the Good Morning screen included normal information such as the weather, but no sleep data. However, when I went to the Sleep app, I was able to see exactly when I fell asleep and when I woke up. There is even a break in the line that represents my sleep at about 6 in the morning, when I really did briefly wake up, so the Apple Watch accurately detected even that. You can't tap this line for a more detailed breakdown yet, although you are able to see your sleeping hours from previous days so you know if your sleep time is improving.

When the time to get up came, both the Apple Watch and iPhone got out of Sleep mode, as is to be expected. The battery life of the Apple Watch was down to 78% from 100% when I went to sleep, so it took about 22% of battery life for it to track my sleep for 7 hours and 17 minutes.
So, does the Apple Watch track sleep well in its current state? Its implementation is not finished yet, as this version of watchOS 7 is merely a public beta, and not final. But the Apple Watch was capable of perfectly and automatically tracking my sleep throughout the night, and the new Sleep mode was really fantastic at preventing me from distractions when it was time for bed.
Whether you choose to try out the beta, or will wait for the public watchOS 7 release, you now know that the Apple Watch sleep tracking will be accurate, and Apple's way of helping you have a good night's rest is effective.