You can get the best Apple Watch Series 4 feature right now, for $300 less
7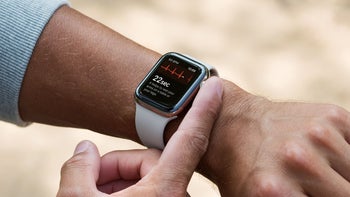 One of the biggest surprises at this year's September event was the Apple Watch Series 4, and more specifically its ability to take electrocardiograms (or ECGs) on the go. A truly revolutionary feature that allows users to get a super-accurate heart reading by simply touching the Digital Crown of the Apple Watch Series 4. This is the first smartwatch to offer this type of functionality, but Apple went further to clarify that the Series 4 was also the first over-the-counter ECG device for consumers.
This didn't please AliveCor CEO Vic Gundotra, whose company already has two portable offerings out on the market. Gundotra, most widely-known as the executive behind Google+, has been running AliveCor for 7 years and is confused by Apple's claims that the Series 4 will be the first over-the-counter ECG testing device for consumers.
AliveCor is a startup based in Mountain View and it makes portable ECG devices for consumers. It has two products on the market right now — the KardiaMobile and the KardiaBand — both of which, as Gundotra points out, are considerably cheaper than the Apple Watch Series 4.
KardiaMobile is an FDA-cleared personal ECG monitor. It fits in your palm, connects wirelessly to your phone, and gives you ECG readings on the fly. All you have to do is place your fingers on the two metal pads of the device and give it a second. It also costs $99, compared to the $399 starting price of the Apple Watch Series 4. Here's how the KardiaMobile works:
KardiaMobile is a pocketable personal ECG device
AliveCor's other personal ECG monitor is even more interesting – it is a
band
for the Apple Watch that has the exact same functionality. Taking an ECG with the KardiaBand is simple – you just place your thumb against the metal pad on the band and tap "Record" on the Watch. The KardiaBand costs $199 and comes in two lengths in the box to ensure a perfect fit for the user.
AliveCor CEO Vic Gundotra makes a good point about the pricing, noting that many people who need at-home ECG are price sensitive. However, in the case of the KardiaBand, it is a $199 purchase, so if you don't already own an Apple Watch and want ECG functionality, you'd be better off getting the Apple Watch Series 4. No point in buying a Series 3 and investing another $200 in the band. KardiaMobile, on the other hand, is $100 cheaper than the KardiaBand and is compatible with pretty much every phone out there, so it is a viable, much cheaper alternative to the Series 4.
KardiaBand is an Apple Watch band with ECG reading functionality built-in
"We love that Apple is validating AFib; just wait until you see what AliveCor is going to do next,"
Gundotra said in a
Business Insider
interview. "
We were a great restaurant in a remote section of town, and someone just opened a giant restaurant right next to us, bringing a lot more attention."
"Although when they said they were first to go over-the-counter, we were surprised,"
he continued. "
Apple doesn't like to admit they copy anyone, even in the smallest things. Their own version of alternative facts."
ECG reading capabilities in wearables will become commonplace in the next year and could potentially help millions of users identify health concerns more quickly than ever before.
Current data shows that anywhere from 2.7 to 6.1 million Americans may suffer atrial fibrillation – a statistic that can be lowered and much more accurately measured with real-time, on-the-go ECG readings. No wonder that the FDA is changing to a more flexible stance on wearables that offer this type of functionality.